Posted on
Star boy shines with dance moves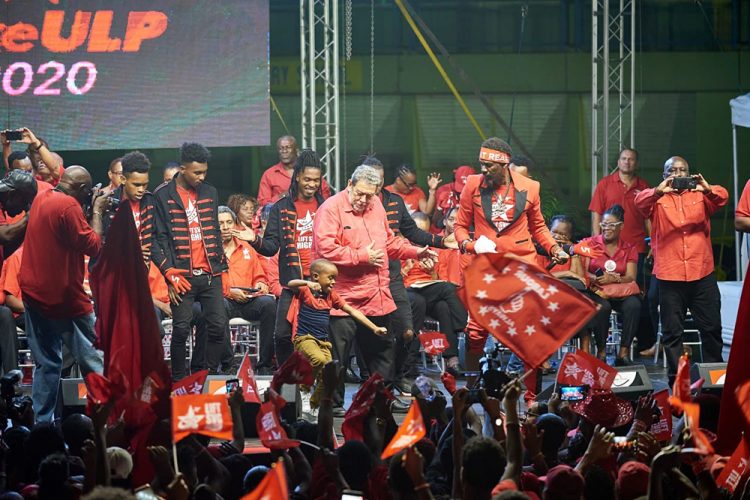 Of all the local stars that performed at the Unity Labour Party's manifesto launch on Sunday, no one shone as bright as a five-year-old boy who fearlessly got up on stage to show everyone his dance moves.
All eyes were on Jyasi Nash Jr, who undoubtedly stole the show with his enthusiastically executed dance moves in the majority of Sunday's performances.
With only a couple glances at the backup dancers, the youngster was able to mimic their choreographed routines with ease while slipping in his own flair to the moves.
"…There's no where music is playing and it's wasting. Once he's there, he will dance," his grandfather told SEARCHLIGHT yesterday. "…I've been getting a lot of calls. People who know him say they know that he's gonna be a star".
The Central Leeward man, who asked not to be named, said his grandson loved dancing since he was a baby. As a toddler, JJ, as he is affectionately called, would hold on to surfaces and dance with him.
He explained that he had taken Jyasi Jr with him to Sunday's rally and when they arrived early, the youngster asked to go on stage to dance before the event officially started.
His grandfather allowed him to go but told him to come down once the formal event was underway.
"Then I saw [Sir Louis] Straker got up, like he was looking for somebody," the man said, explaining how JJ came to be on stage during the performances.
It turned out that ULP's outgoing candidate for Central Leeward was looking for the five-year-old and the youngster was extremely happy to join the ULP candidates and others on stage.
Jyasi Jr, a Grade one student at the St Mary's Roman Catholic School, could be seen sitting with the persons on stage in the less hyped parts of the event. But once performances got underway, he sprang to life at the front of the stage with the dancers and local artistes, which included Rondy "Luta" McIntosh and Delroy "Fireman" Hooper.
At one point in Luta's performance of his song, "Comrade Skank", young JJ could be seen with Luta and Prime Minister Dr Ralph Gonsalves, nodding and lightly tapping his feet to the beat in anticipation of the dance break.
And when the local artiste commanded that "everybody dance like the Comrade", Jyasi Jr executed the dance move with a flair that rivalled everyone else doing the same move on stage.
"I see JJ bouncing people on the edge of the stage like a celebrity, giving them high fives," his granddad said, revealing that the youngster was excited to be in the spotlight – so much so that he did not want to leave the stage.
"He's not afraid of anything, he's not afraid," he added, noting that his grandson was undaunted by crowds.
In addition to his love for dancing, Jyasi Jr likes music, which he can be found playing on his keyboard. He also has an interest in the steel pan. He also enjoys swimming and taekwondo and cannot wait to obtain his black belt.
His grandfather attests to his academic prowess, and said the five-year-old strives to do his best at all times in school.
And when he grows up, Jyasi Jr would like to either be a scientist or the manager of his family's business.
Jyasi Jr is looking forward to his "most special birthday" next month because he will be 6 on the 6th day of November.
[UPDATED on October 27, 2020 at 8:26 am to replace the secondary photograph with a photo of Jyasi Nash Jr. and Rawlo]