Posted on
Passing of Sir James Mitchell is the end of an era – Leacock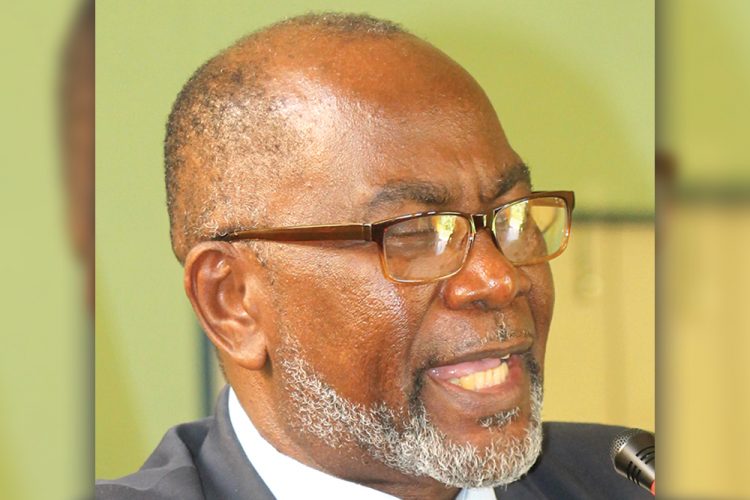 FOR New Democratic Party (NDP) vice president, Major St Clair Leacock, the passing of Sir James Mitchell is the end of an era.
Sir James was the founder of the NDP and this country's second prime minister, having served from 1984 to 2000 when he retired from active politics.
"Sir James came to my attention pretty much the same way as has been represented earlier today; as a simple and ordinary, educated, perhaps privileged — though he never demonstrated it — individual… who came to a decision of a life of public service and he distinguished himself," Leacock said in Parliament this week as he paid tribute to the statesman.
The parliamentarian described Mitchell's representation in the House as "simple but robust" as he would "bat whole day, come back the next day, change his guard and continue his innings and literally speaking retire hurt, having made his point almost always taking on the status quo and championing the cause of the underprivileged and the working class and his greatly loved people of the Grenadines".
He added that Sir James was famous for traversing all areas of the country, and positioned himself for a life of service and dedication.
Though he acknowledged that he was not always a member of Sir James' "political flock", Leacock noted that his 1989 victory, where he claimed all 15 constituencies was historic.
"Many said that he was leading a bunch of inexperienced public servants, business people…The distinguished patriot, politician and distinguished servant of this nation and of blessed memory, Robert Milton Cato, uncontested father of the nation in 79 could not convince the people in 84 as father of the nation, that he had done the job that he wanted in his five years," he said.
"Sir James, from 84 to 89 and you can give him a title; step father is probably not appropriate; went in the different direction of success and got all 15 seats and one has to interpret it that the populace had come to the conclusion that he had properly interpreted the opportunity for independence and as history would reveal, Sir James' profound belief in creating a landed democracy… may have helped him a great deal in his political sojourn."
This "landed democracy" ideology resulted in more working class Vincentians becoming landowners and the initial construction of the St Vincent and the Grenadines Community College; all of which resulted in more persons elevating in social status to the middle class.
Leacock recalls serving as the NDP's public relations officer and in other capacities under Mitchell's administration.
"Sir James offered me the East St George constituency in 2001 after the tumultuous years of protest on the streets of Kingstown and I declined. I like to say that I would've lost then but I'm certain I would've been successful by now. Sir James offered me his party on another occasion and I declined again out of loyalty," Leacock, who has served for several terms as the parliamentary representative for Central Kingstown said.
"There is no doubt Madam Speaker that lots of good will be said about him but as we who are serving now recognise our own mortality — and I don't think as politicians anybody has to remind us of our own imperfections, we confess them ourselves; there can be no doubt, whether the history is revised or otherwise, his will be a hard act to follow. He called it as he saw it.
The parliamentarian felt it fair to say that in all of Sir James' leadership, he never lost the character of "the value of learning to listen and to submit one's self to the greater good and that's why in the end, he left with that distinction, Prince of Peace. May light perpetual continue to shine upon him. May he Sir James rest in peace. Great man. Great Leader. Great Legacy."