Posted on
Leroy Constantine staying firm with his feat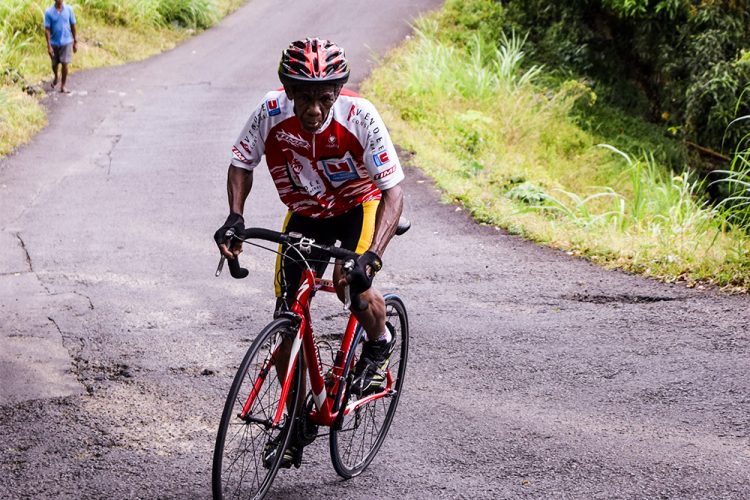 Despite enduring a fall during his attempt to cycle from the Bridge Bar in Greiggs to the summit of Marron Hill, last Monday, veteran cyclist Leroy Constantine achieved his desire, that was to complete the course.
Constantine, at age 70, had set out to mount the steep hill in a time less than that of his previous best of 7 minutes 59 seconds, done in 2017.
But he lost his balance at one point and had to dismount his bicycle, but reset the clock, to complete the distance in 7 minutes 15 seconds.
At the end of last Monday's activity, Constantine commented, "I am a man with determination, so I was not giving up at all".
Relating the fall, Constantine said he tried dodging a "hole", when his back wheel skidded, causing him to lose his balance.
Constantine had missed the hill climb event on March 14, National Heroes Day, hence endeavoured to continue his tradition.
"I started this in 1987, with the late Rupert Minors and others, but had stopped for a while, until I started back in 2017," Constantine reported.
He noted that it was in 2017, he declared that was his annual contribution to the National Heroes Day celebrations.
However, for varying circumstances, saw him missing out in 2018, 2019 and 2020.
A former national cyclist having represented St Vincent and the Grenadines at regional cycling events in 1982 and 1983, Constantine revealed that he will continue in the sport for as long as good health permits.
Constantine occasionally competes in events staged by the SVG Cycling Union, with his last being in June last year.Leroy Constantine staying firm with his feat