Posted on
National football teams rebranded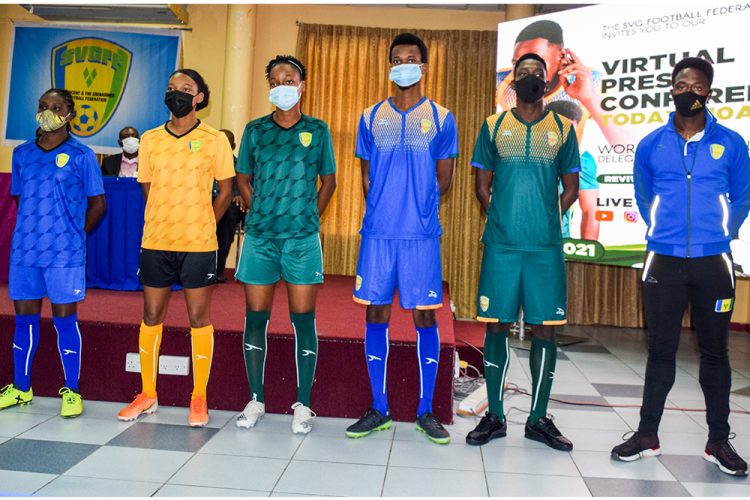 A two–year deal between the St Vincent and the Grenadines Football Federation (SVGFF) and US-based sportswear manufacturing company SCORE, will see all national football teams equipped with apparel.
The sponsorship deal, which is to the tune of US$75 000, will run until February, 2023.
The deal will cover the senior teams, men and women, along with the male and female Under-17 and Under-20 outfits.
Disclosing the details of the partnership with SCORE, president of the SVGFF Carl Dickson, said last Monday at a press conference at the Methodist Church Hall in Kingstown, "There will be training kits of various colours, hotel wear, game day tops, pennies or bibs as we have come to know them, in various colours, game kits, track suits, polos for travel, etc".
Dickson also announced that back packs and carry-on luggage are part of the deal, as well as supporters will soon be made available.
Expressing a sense of joy of being able to procure the deal, Dickson expounded: "The Vincy Heat brand is designed in a way to make us feel good about the product that we are sending out and make us feel a sense of euphoria, when we see the team travel across the globe as well".
"We want to demonstrate in a tangible way, that the executive arm of the SVGFF is delivering on our promise to enrich the brand, to celebrate as Vincy Heat… We want to celebrate our players and create a fresh new feeling at all levels of national representation," Dickson expressed.
Underlining that outfitting of the teams formed part of the overall enhancement of the football product and image of St Vincent and the Grenadines, Dickson stated, "We at the executive level, are of the conviction that when a person looks good, feels good about themselves, they are 90 percent inclined to achieve success and will give their very best effort".
Meanwhile, head coach of the senior national men's team Vincy Heat, Kendale Mercury, revealed at last Monday's press conference, that he had indicated in a forceful way that he was not prepared to travel with any team if they were not better outfitted.
"I want to congratulate the SVGFF and its stakeholders, they have delivered, they have kept their promise," Mercury affirmed.
The head coach added, "off the field, they have done their job, so our job is to deliver on the field".