Posted on
SVGFF hands over laptops to affiliates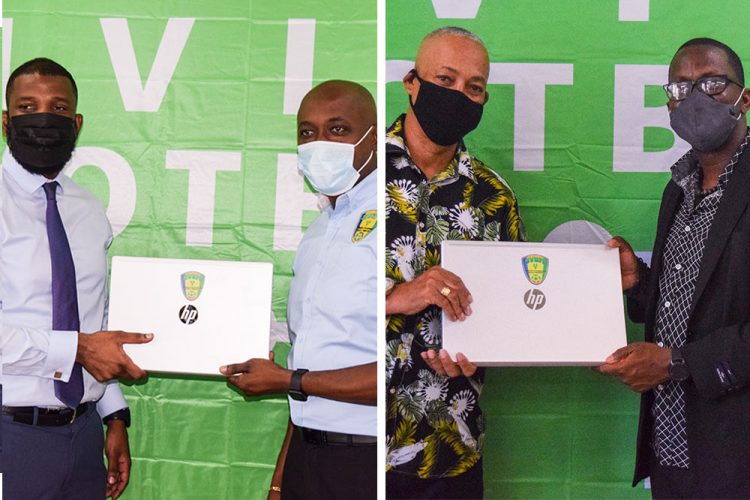 Affiliates of the St Vincent and the Grenadines Football Federation (SVGFF) have had one of their administrative needs taken care of, with the donation of a HP laptop, compliments the national football body.
This, after each of the 56 affiliate clubs, leagues and associations responsible for the development of football here, were presented with a device last Thursday.
The presentation of the laptops forms part of the club assistance programme of the SVGFF. The laptops were procured from funds received from FIFA last September in a Covid-19 relief package, which the sport's world governing body provided.
Explaining the reason for the provision of the devices, General Secretary of the SVGFF, Devron Poyer said, "One of the purpose of the laptops to the affiliate members, is to keep them activated, keep them current, keep them informed and keep the federation and our members on an interaction basis".
Poyer noted that the laptops would also assist in the administrative process with the secretariat of the SVGFF.
"There are a number of other activities and things that would help the clubs to develop and the federation to move forward as it relates to football… So the distribution of these laptops is really to help the association to grow and to help the members grow themselves," Poyer informed.
The SVGFF General Secretary added that the affiliates can make use of the laptops for "accounting purposes" and for recording minutes of the online meetings.
Poyer revealed that the handing out of the laptops is right on cue, as the secretariat will host a finance workshop next week, and the devices would be critical in that activity.
He added that the secretariat would also be utilising the laptops for the hosting of the upcoming congress of the SVGFF.
Those who benefitted from the roll out of the laptops were North Leeward Sports Association, North Leeward Predators, Sharpes 09, Barrouallie Sports Association, Hill View United, Layou Sports and Cultural Organization, Layou, Buccament Football League, South Leeward Sports Association, Camdonia Chelsea, K & R Strikers, Parkside Rollers, QCESCO Titans, and Roxdale.
Also receiving a device were the Referees Association, Volcanoes, Roseans, Sharpes, Largo Height, Avenues United, BESCO Pastures, Richmond Hill FC, System 3 Academy, Green Hill, Over 35 Organisation, Bequia Football Association, Bequia United, Jebelle, the Arnos Vale Football League, Toni Store Jugglers, United Strikers, Sion Hill League, Sion Hill, Hope International and SVG Police.
 The list of recipients was completed by the Marriaqua Football League, Glenside Ball Blazers, Pride & Joy, Stubbs Football League, South East League, Strike Force, Calliaqua Football League, 1998 Hillside, Awesome, North Windward Football League, Owia United, DESCO, North East Football League, Brownstown Greggs Football League, Greggs, Sparta and SV United.
The cost of procuring the laptop was put at EC$170 000.