Posted on
SVGFF staffers get professional training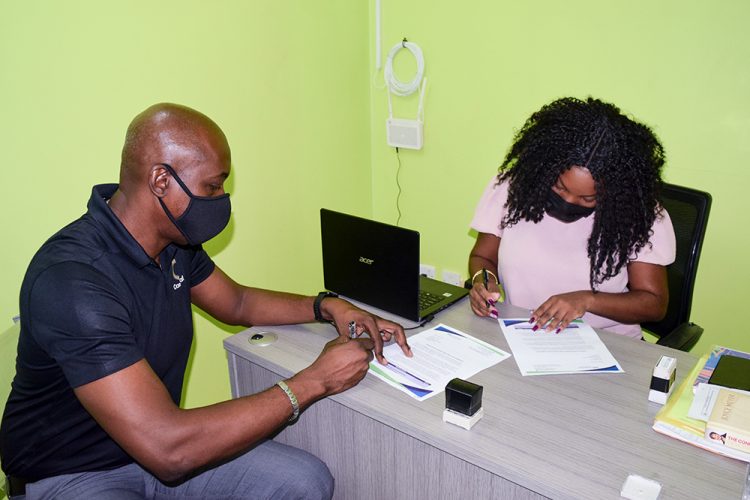 The executive of the St Vincent and the Grenadines Football Federation, has embarked on the professionalisation of its operations, commencing with the office staff.
Hence, those who man the secretariat located at the SVGFF's building, located on the corner of Higginson and Grenville Streets in capital, Kingstown on a daily basis, are being exposed to eight weeks of training.
The training includes the staff members gaining knowledge of the technical and soft skills and techniques necessary for the consistent delivery of service excellence, the effective strategies for professionally dealing with difficult situations and clients, along with being aware of the core principles of professionalism and workplace etiquette.
A contract signed by the SVGFF and Millennial Advantage HR Solutions, will see the staff being exposed to eight weeks of training to be carried out by Dr Janelle Allen, the lead consultant.
Excited at the prospects of having ticked off one of his ten-point plans for the SVGFF during his tenure, president Carl Dickson, underscored at the signing of the agreement last week between the two entities, "It is one of the pillars in which we intend to help professionalise the sport in the shorter term".
Dickson, in asserting the need for such training, commented, "If we don't change the motivational aspect of the staff to give them a full understanding of how they are integral parts of the organisation and the vision of the organisation, then we will be essentially spinning top in mud".
Dickson revealed that in addition to the office staff, members of the technical staff will also be part of some professional training.
"We are also engaging in some programmes with the technical staff… We will also be engaging in some impromptu and structured teaching and learning engagements… They will be supported by regional instructors and there is a particular proposal on the table for Dr Allen to also conduct a two-week session with them," Dickson related.
Meanwhile, Allen stated that the training of the SVGFF staff members is critical at this juncture.
"It is timely, especially in this a pandemic when everyone seems to be rethinking how we work and how our structures are to be supported to make us more productive and achieving overall targets," she noted.
Exuberant about the next few weeks' involvement with the SVGFF, Dr Allen projected: "We will be ensuring that policies are in place that will help achieve its targets, and work towards making football a sport that is more than just the love of the game, but a sport that is organised, that other organisations can copy".