Posted on
Hoops and balls for rebirth of basketball in North Leeward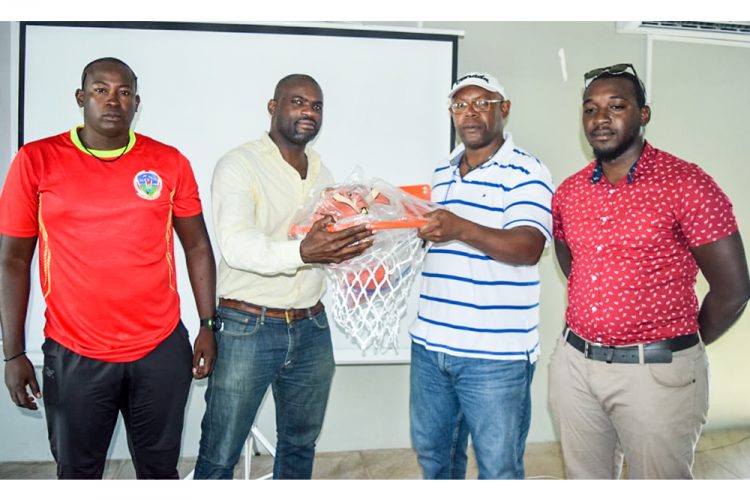 The revival path for the sport of basketball in North Leeward, got another boost, last Tuesday, when the executive of St Vincent and the Grenadines Basketball Federation handed over a hoop and balls to the North Leeward Sports and Cultural Organisation last Tuesday.
At the brief ceremony held at the conference room of the St Vincent and the Grenadines Football Federation, Otmar Marshall, who is leading the charge for the sport's revival, outlined the reason behind the new push.
Marshall, who was instrumental in the establishment of the Northern Boyz Basketball Academy, revealed, "A lot of interest has not been pushed, in terms of basketball, by parents, even people of the community, because most of the guys who used to play basketball for Northern Boyz, half of them are not here… Nobody is there to give back to the sport, so that is why I started in 2018 when I opened the Northern Boyz Basketball Academy, alongside former player Oswald 'Paradise' Hooper".
Marshall was making reference to the once potent Northern Boyz team, which ruled basketball here in St Vincent and the Grenadines during the early 2000s.
Fast forward to 2020/2021, Marshall noted as he plants his seeds, "I have been grooming young kids between the ages of 8 and 16. This is a start for us and with this, we can go an extra mile… I have actually helped out training at the Troumaca Ontario Secondary School, and have helped out with Petit Bordel Secondary as well".
But as the lead members of the North Leeward constituency are making good of their intent of getting basketball back up and bouncing in a wholesome way, Marshall has also welcomed the new and improved sporting facilities in the communities of Rose Hall and Fitz Hughes.
"That is a big boost for us and they are doing some work also on the one in Fitz Hughes, so once these courts are back up and running, basketball will start from the ground up … I plan also to run programmes in Rose Hall as well, so that's a big help as well."
President of the SVG Basketball Federation Rohan Providence, expressed excitement in ths sport getting a rebirth in North Leeward.
Providence promised that his organisation will continue to work with the members of the North Leeward Sports and Cultural Organisation in promoting and uplifting basketball.