Posted on
National club championships' first division kicks off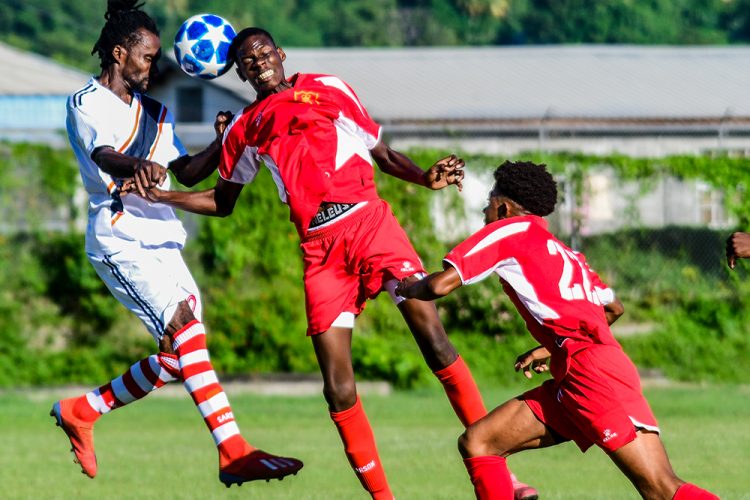 The first round of the first division of the 2020/2021 National Club Championships has kicked off.
Taking their first three points were QCESCO Titans, Camdonia- Chelsea, SV United, Richmond Hill, Glenside Ball Blazers and Sparta FC.
When the division got going on Wednesday at the Victoria Park, Curton Jordan, in the 4th minute, Jaheim Pompey, the 27th minute, along with strikes from Kimal Charles, in the 42nd minute and Lenroy Ottley, in the 69th, gave QCESCO Titans a four-nil win over Volcanoes.
Also on that day, Camdonia- Chelsea defeated Greiggs 2-1. Scoring for Camdonia- Chelsea were Kendal Bynoe and Keron Pitt, in the 4th and 25th minutes, respectively, while Dan Laborde had the reply for Greiggs in the 79th minute.
On Saturday, at the Sion Hill Playing Field, SV United got past Bequia United 3-2. Bequia took the lead in the 4th minute via a Marlon Simmons strike. But goals by Dwayne Cupid in the minute 26 and another from Akram Edwards in the 41st, put SV United ahead. Kacy Peniston tied it up in the 51st minute, before Kurtney Thomas grabbed the winner for SV United in the 87th minute.
Also on Saturday, but at the Campden Park Playing Field, Richmond Hill came from behind to beat Parkside Rollers 3-1.
Kentish Matthews, in the 51st minute, gave Parkside Rollers the go ahead goal.
However, Jamar Cropper equalised in the 75th minute, then Kyle Da Silva hit two quick goals in injury time, to land Richmond Hill the three points.
Meanwhile, Glenside Ball Blazers left it late on Saturday to edge out Owia United, 2-1 at the Chili Playing Field.
Des-osrick Nanton broke the deadlock in the 80th minute for Owia United, until Samari Webb and Ozim Henderson, in the 83rd and 86th minutes, respectively, sealed the deal for Glenside Ball Blazers.
And, on Sunday at the Victoria Park, Sparta FC, on the back of goals from Saviola Blake in the 38th and 40th minutes and Shemron Phillips in the 63rd minute, won from Pride and Joy, 3-1. Pride and Joy's goal was scored by Otis Hector in the 53rd minute.
A double-header is set for tomorrow at the Victoria Park. From 5:30 p.m., Richmond Hill play Glenside Ball Blazers, to be followed by Parkside Rollers versus Sparta from 7:30 p.m.