Posted on
Hard Hitters add TBPO softball title to takings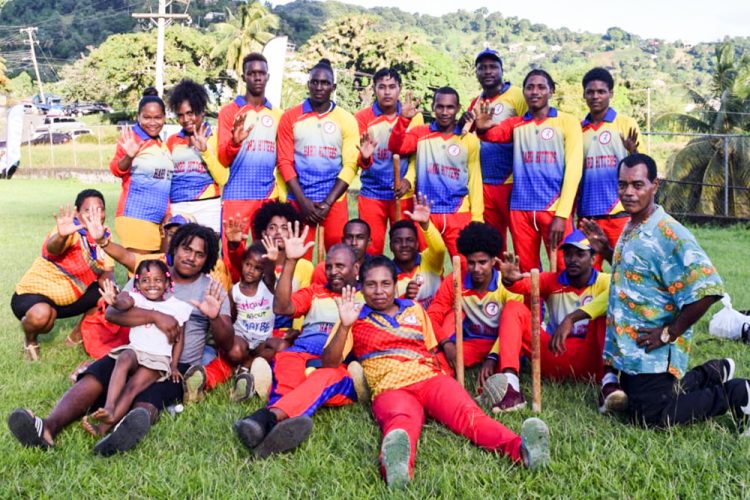 Hard Hitters got their first lien on the 2020 National Lotteries Authority TBPO softball cricket competition last Sunday at the Dauphine Playing Field, with a 28-run win over Sunset Strikers.
Hard Hitters made 118/9 from their 20 overs; player of the final, Kerwin Williams hit 37 and his twin brother – Erwin Williams 20.
Bowling for Sunset Strikers: Jabarri Cunningham had 2/ 7, Travis Cumberbatch and Danroy Hazel, each took 2/15.
Sunset Strikers' reply was 90 all out in 19.1 overs; Stein Joseph 23.
Trevin Baptiste 3 / 6, Anthonio Barber 3/ 31 and Erwin Williams 2/9, bowling for Hard Hitters.
The two got the final, following semi-final wins on Saturday.
First up, Hard Hitters overcame Nice Radio Clinchers by 16 runs, in a match reduced to 15 overs because of a late start.
Hard Hitters made 89/ 6 in 15 overs; Kerwin Williams 39 not out. For Clinchers, Donaldson Harry scalped 2/3.
Clinchers- 73 all out from 14.2 overs.
Bowling for Hard Hitters, Anthonio Barber snared 3/ 17 and Erwin Williams 2/3.
Then Sunset Strikers ousted last year's winners – Country Meet Town Out Ah Trouble by 10 runs.
Stein Joseph – 31 and Travis Cumberbatch – 28, saw Sunset Strikers posting 108/8 from their 20 overs.
Davian Barniam 2/ 13, Sunil James 2/ 19, Alwayne Quashie 2 / 32 and Richie Richards 2/ 37, were the successful bowlers for Out Ah Trouble.
Out Ah Trouble's response was 108 all out from 18.5 overs, despite Richie Richards' 52.
Bowling for Sunset Srikers, Keneal Skinner had 4/ 32 and Andre Hunte 3/22.
Out Ah Trouble went on to take the third place, beating Clinchers by nine wickets.
Clinchers made 97 all out in 18.1 overs;Dill Clarke 30.
Kirton Lavia 3/17, Davian Barniam 3 /25 and Sunil James 2/ 11, bowling for Out Ah Trouble
Westrick Strough 45 and Kirton Lavia 36, helped Out Ah Trouble to 102/ 1 from 11 overs.
For winning the title, Hard Hitters received $3000, while Sunset Strikers got $1500. Third place Out Ah Trouble earned $1000 and Clinchers- $500.
It was Hard Hitters fifth title since the team was formed three years ago. Hard Hitters have previously champed the Owia, Lauders , Biabou and Richland Park titles.