Posted on
La Soufriere Hikers top VPL 2.0 in style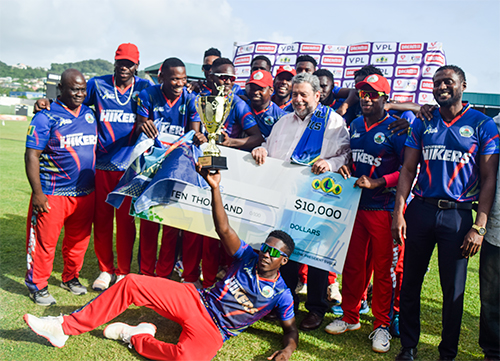 La Soufriere Hikers had an emphatic 68-run win over Salt Pond Breakers last Sunday at the Arnos Vale Playing Field, to lift the title of champions of the Dream 11 Vincy Premier League (VPL) 2.0.
Sent into bat by Salt Pond Breakers, the Hikers posted 131 for 3 from their 10 overs; Kaven Hodge scored 40, Salvan Browne, 31, Desron Maloney, 35 and Dillon Douglas, 22 not out.
Making haste with the bat, Maloney and Browne posted 60 for the first wicket from 4.3 overs, then Hodge and Douglas shared a stand of 65 for the third wicket, before Hodge was dismissed off the last ball of the tenth over.
Winners of the VPL first edition in May, Salt Pond Breakers, in response, got off to a bad start. Breakers had the backbone of their batting broken, as they lost Sunil Ambris and Ricavo Williams in the first over and Ryan John, in the second, with just 5 runs on the board.
This proved a body blow, as Salt Pond Breakers could only limp to 63 for 9 from their 10 overs. Seon Sween with 19 was the top scorer, while Desron Maloney had 2 for 2, Benniton Stapleton, 2 for 3 and Kavem Hodge took 2 for 7.
It was sweet revenge for La Soufriere Hikers, who were beaten by Salt Pond Breakers in the final of the inaugural VPL six months ago.
It was Salt Pond Breakers who got to Surday's final, having beaten Botanical Gardens Rangers by six wickets, in Friday's first qualifier.
Winston Samuel hit 25 as Rangers were dismissed for 91 in 9.4 overs. Jeremy Layne picked off 3 for 12, Delorn Johnson had 2 for 15 and Sunil Ambris, 2 for 18.
In reply, Breakers, who finished at the top of the standings after the prelimiinary round, reached 95 for 4, with two balls to spare. Ricavo Willaims hit 2 fours and 4 sixes in his 41 and Ambris contributed 21.
In Eliminator one, La Soufriere Hikers ousted Dark View Explorers by nine wickets, also on Friday.
Deron Greaves stroked 5 fours and 3 sixes in his 52, as Dark View Explorers tallied 92 for 5 from their 10 overs. Beniton Stapleton grabbed 2 for 5 and Dillon Douglas took 2 for 23.
Desron Maloney, with 40 not out, Dillon Douglas, 25 not out and Salvan Browne, 22, saw Hikers to 95 for 1 in 8.4 overs.
La Soufriere Hikers on Saturday in the second eliminator, took care of Botanical Gardens Rangers by eight wickets.
Rangers could only make 74 for 7 from their allotted 10 overs; Emmanuel Stewart scored 21. They were undone by the Beniton Stapleton's 3 for 11 and Dillon Douglas, 2 for 27. Douglas, with 50 not out, led Hikers to 75 for 2 from 7.4 overs, and a place in the final again.