Posted on
Leopold Dopwell gets 'surprise' honour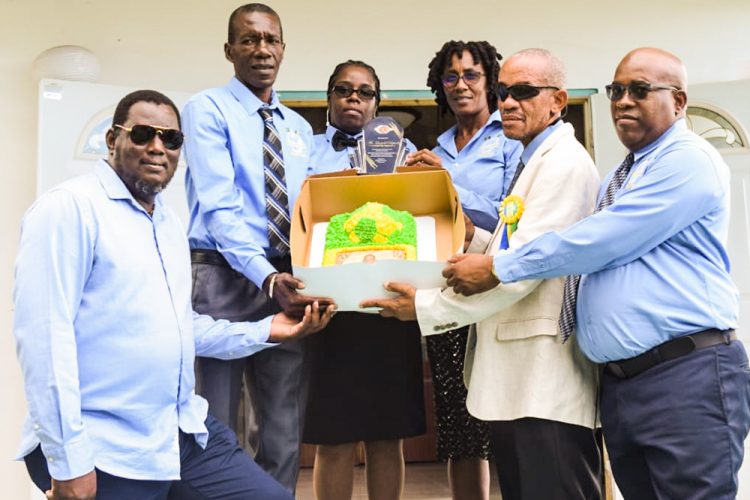 Members of Breakaway Masters Organisation's surprise plan to honour its president – Leopold Dopwell, came together last Sunday morning at the Church of the Nazarene, Arnos Vale.
Members of the organisation who were celebrating their 14th anniversary, were part of regular church service, and used the occasion to present a plaque and cake to Dopwell.
Though truly surprised by the decision of his executive, Dopwell was grateful for the unexpected gesture.
"It was really a surprise… They did one on me… I had no clue about this," Dopwell said last Sunday, when he was presented with his tokens.
In the position of president for nine of the 14 years of the organisation's life, Dopwell listed some of the accomplishments of his tenure.
He listed the establishment and growth of the firms invitational football tournament, which began in 2011, the honouring of persons who contributed to sports here in St Vincent and the Grenadines; the hosting of a family fun day, the organisation's Education Assistance Fund and the monetary disaster contributions to the National Emergency Management Organisation (NEMO).
Dopwell also named the hosting of the Brazil Naval Army to a one-day of recreation and sports back in 2017 at the Richmond Hill Playing Field and the CBS from Trinidad and Tobago last year, as well as being awarded the Best Sports Club at the Best of SVG show in 2018, as among the organisation's highlights, with him at the helm.
"We are not just an organisation that begs, want and receive; we reach out… We also give back and do so generously… We are a talented group of people and know how well to organise football, other functions as well, not a limited group, very versatile," Dopwell noted.
However, Dopwell said that the lighting up of the Richmond Hill Playing Field still remains his organisation's most desired goals.
"What would be our biggest aspiration is to see the Richmond Hill Playing Field lit… We vow we would not rest until it happens," Dopwell noted.