Posted on
Football managers gain insight into their roles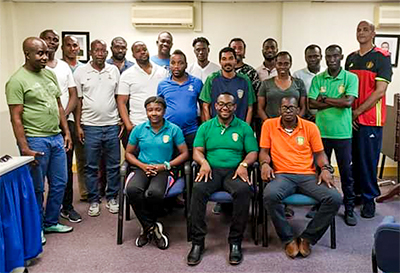 Management personnel of local football teams were last Saturday given insights into what is required of them in their respective roles. 
This, when the executive of the St Vincent and the Grenadines Football Federation held a one-day workshop for managers at the conference room of the National Sports Council at Arnos Vale Playing Field.
Facilitator Devron Poyer, general secretary of the SVGFF, instructed the participants on their roles and responsibilities, budgeting, pre-event management, stadium, facilities and hotel,
game day management, post event management and management of team equipment.
President of the SVGFF Marvin Fraser, who addressed the workshop, noted that the exercise was timely, as local teams prepared themselves for adhering to all the statutes of CONCACAF club licencing programme.
In turn, the most participants revealed that the information presented was new to them.
The consensus was for the participants to take the information garnered, back to the rank and file of their football units. 
This Saturday will see the executive of SVGFF continue the process of empowering the clubs with the staging of a workshop pertaining to registration of players to CONCACAF comet system.
Then on Saturday, October 21, there will be a similar workshop, which will deal with FIFA connect programme.