Posted on
Wayne Williams puts basketball development above self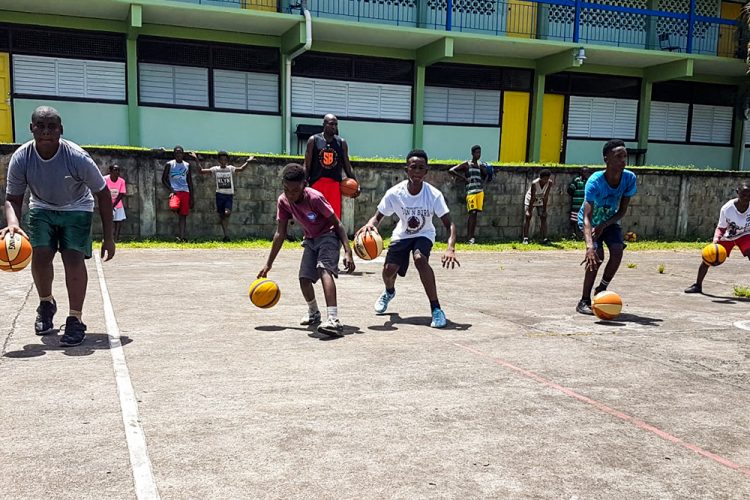 Wayne Williams was ousted from the presidency of the St Vincent and the Grenadines Basketball Federation (SVGBF) in July of this year, but that is not deterring him from contributing to the development.
Williams, through the Sunshine Basketball Academy, which he heads, is teaming up with organisations in the various communities to spread basketball, especially among youngsters.
Last Saturday, the academy's caravan made a stop at the Petit Bordel Secondary School's hard court, in concert with the Northern Boyz programme.
There, 23 youngsters were exposed to some of the basic skills in basketball.
As part of the academy's outreach programme, the aim is to reignite the communities where the sport was once vibrant.
Williams noted that in order for basketball to progress, or any sport for that matter, there must be always a "proper feeder system".
Williams is hopeful that when his academy has sown the seeds in the communities, that persons will be there to nurture the talent into bearing fruits.
He reiterated that now he is out of the responsibility for the sport nationally, he can give more time to his "passion", which is "the coaching of basketball".
Making an admission, Williams conceded that he works more and have a greater hands-on, when it relates to the technical aspects of basketball when he is not part of the national basketball's executive.
Driven by some civic beliefs, Williams advanced, "We have a responsibility, as members of an organisation or a citizen of a country, to work hard and smart to make things better, but more importantly, to leave things better for the next generation to build on".
And, Williams holds on to Luke 12:48 in the Holy Bible, which reads: "For unto whomever much is given, of him, shall be much required".