Posted on
Carnival Make up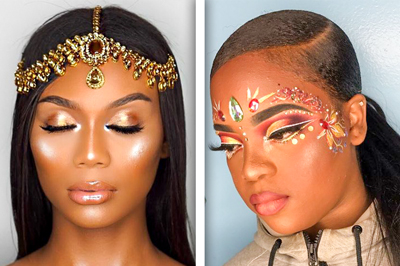 Carnival season is here and we all know faces must be flawless for the streets. Some may opt for sparkles, other may need gems, but one thing is for sure, there will be lots of colour. Here are some makeup idea for persons who would be getting their makeup done or doing it themselves.
This is a great mix of shimmer and gems. A look that screams class and fun all in one.
The DIVA look isn't for the faint of heart and can definitely be the talk of the town. With the use of face paint or regular makeup this could be you come carnival Monday or Tuesday.
And of course, there is the simple glam. For the girls that just want to keep it simple.
Quick tips.
Make sure to get a good setting spray to keep your look in place for the day.
To keep breakouts at bay, thoroughly wash your face and moisturize before bedtime.
Eye shadow colours will not pop unless you use an eye shadow primer in white or cream.
A look is never complete without eyeliner.
Make sure as many things are waterproof as possible. E.g. mascara and eyebrows.
I hope to see some of these looks in July for our Carnival.
For any questions or comments contact me at:[email protected] or address letters to On Fleek This Week C/o Searchlight Newspaper, Lower Kingstown Park, PO Box 152,Kingstown.