Posted on
Training my curls to fall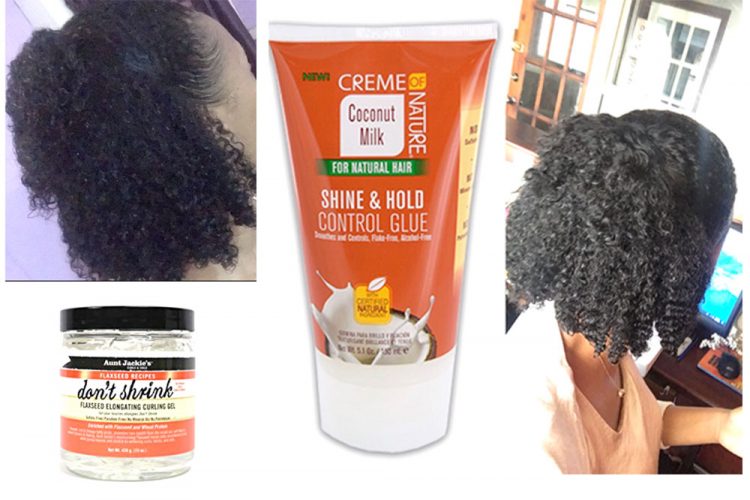 This October marks three years since I made the decision to go back natural. I have enjoyed the journey for the most part, especially trying new products to see what works best. 
Over these years, however, my hair has grown thicker than it has ever been. This thickness has discouraged me from wearing my hair down. The humidity causes it to frizz and shrink, and clearing it out after is a task I'd much rather avoid, but recently I decided to try two curl stretching products to assist in training my curls to fall. Today's article will review each product honestly. 
The first is Creme of Nature's Coconut Milk Shine & Hold Control Glue. I sectioned my wet hair into four parts, moisturized as usual with a leave in conditioner and coconut oil, and then applied this product generously. I ran my fingers through my hair continuously to evenly distribute the product and to get the curls to stretch. When I left home in the morning my hair fell at shoulder length, but by the end of the day they had shrunk all the way up to my neck. This product also left my hair feeling dry and crunchy, which I did not like. I think perhaps it is more suitable as an edge control. 
The second is Aunt Jackie's Don't Shrink Flaxseed Elongating Curling Gel, which is my favourite of the two. I applied it to my hair in the same way I did with the first product. If you have curly hair then you know there is no escaping shrinkage. However, I am happy to report that the shrinkage I experienced with this curling gel was not as noticeable as the shrinkage I experienced with the control glue.  It's also lightweight, which is always a plus.
Both products are available at Diamond Girl SVG. Also, feel free to send your suggestions or reviews of curl stretching products for natural hair to us. 
For any questions or comments contact me at:onfleekthisweek@gmail.com or address letters to On Fleek This Week C/o Searchlight Newspaper, Lower Kingstown Park, PO Box 152,Kingstown.