Posted on
Sleeping in pin up curls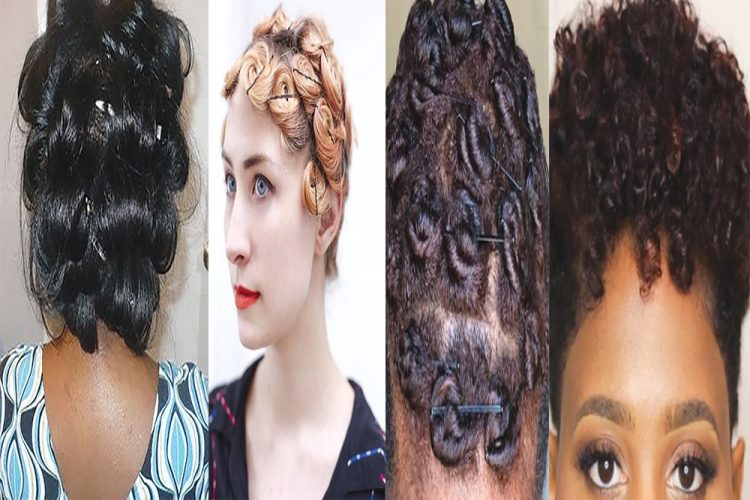 I came in to work the other day all excited about this technique that I had tried over the weekend. After my description of the process and some laughter from my co-workers, they informed me that, yes, it has a name and it's been around a while. Well, I was shocked. So, I decided to do this article for all the girls who don't know about this as yet.
At best you will need bobby pins and curlers, or your curling iron.
This is what I did that day. I washed my hair in the morning and put my normal hair care products in while wet. I then put the curlers in my hair and left them in to dry for the day. Later that night, before bed, I took out my curlers one at a time and simply pushed the curl into itself until it was flat and held it down with a bobby pin or two. Try your best to go with the curl's direction and width. I did this with my entire head. With my head tie on, I slept like a dream that night, with no bulky curlers in my head. The next day, I simply took out the bobby pins and ran my hands through my hair, gently separating my curls, and I was off to work looking fabulous. The following night, I simply parted the hair back out, curled the hair back up with my fingers and secured it with bobby pins. This would hold your curls for a week and works on long or short hair. You would follow the same process after using your curling iron.
You can do pin up curls to hold until you are ready to go out. Just curl your hair using the curling iron. Pin the curl under and leave it till you're ready.
Works on natural hair as well.
For any questions or comments contact me at:
[email protected] or address letters to On Fleek This Week C/o Searchlight Newspaper, Lower Kingstown Park, PO Box 152,Kingstown.