Posted on
Make-up gift ideas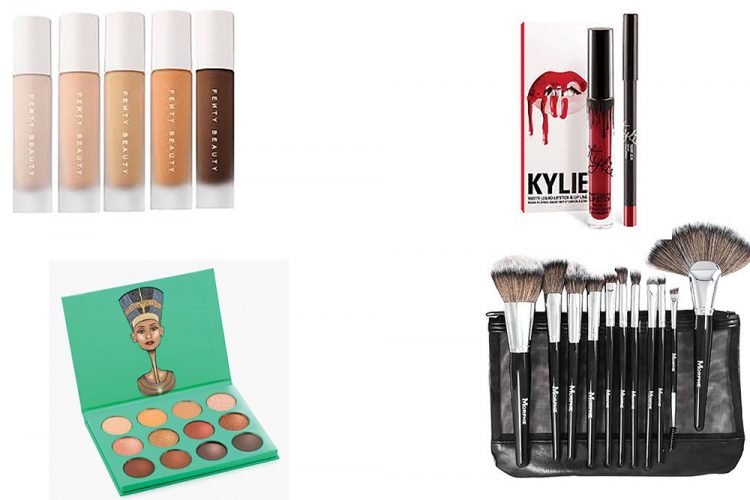 Christmas is officially 20 days away, and you're probably still not sure what to get for your girlfriend, who is really into make-up. Hopefully, these suggestions help you out.
Foundation
Go out on a limb this Christmas and get her the Fenty Beauty Pro Filt'r Soft Matte Longwear Foundation by Rihanna. There are 40 shades to choose from, so you may want to unsuspectingly inquire of your girlfriend what shade would fit her best. Maybe, ask one of her friends to help you out.
Eyeshadow Palettes
The brand Juvia's Place has a number of highly pigmented eyeshadow palettes to choose from. If she's into earthy shadows, she may appreciate the "Nubian Palette". On the contrary, if she's into bright, popping colours, the "Zulu Eyeshadow Palette" may be your best buy.
Lipsticks
A Kylie Cosmetics Lip Kit in the shade Mary Jo K is also a gift worth giving. The kit comes with a liquid matte lipstick and a pencil lip liner. If you think your girlfriend would much rather any shade of lipstick but red, there are a ton of other shades to choose from.
Brush Sets
Brush sets also make great Christmas gifts! Splurge a little on a set from Morphe, Sephora or Real Techniques. A brush set is incomplete without a foundation, blush, contour, fan, concealer and eyeshadow brushes; so, when shopping for one, be sure to check for these essentials.
For any questions or comments contact me at:
[email protected] or address letters to On Fleek This Week C/o Searchlight Newspaper, Lower Kingstown Park, PO Box 152,Kingstown.