Posted on
DIY Holiday Nails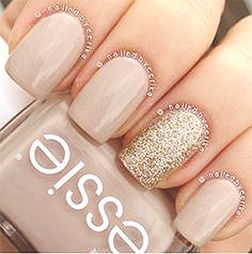 Nude nail polish with sparkles is a classy alternative for those of us who would rather not stick to the traditional colours of the season. To achieve this look, you will need clear nail polish, nude nail polish, topcoat nail polish and gold or silver glitter.{{more}}
Firstly, apply one coat of natural/clear polish to every nail. Base coats prevent nail staining and helps the nail polish to last longer.
Once the base coat is dry, apply the first coat of nude nail polish to your nails and allow them to dry before applying a second coat.
Before the second coat dries completely, freely apply the gold or silver or both glitters to your nails. Add as much glitter as you like or apply glitter to one nail only… the choice is yours. Apply a topcoat to complete your holiday nails.