Posted on
Highlighting and Contouring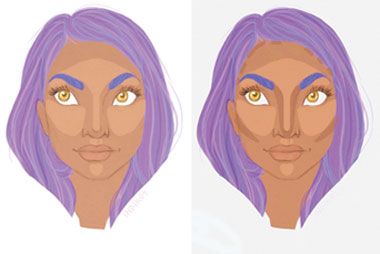 Highlighting and contouring are two crafty tricks that you can use to enhance your bone structure. You will need foundation, concealer one shade lighter than your skin tone for highlighting and concealer one shade darker than your skin tone for contouring. {{more}}
After cleaning and moisturizing your skin, apply your foundation all over your face, using a foundation brush or sponge.
Mix your lighter concealer or foundation with your regular foundation and apply the mixture to your T-zone (the area right above your eyebrows and the spot between them; down the centre of your nose; the middle of your upper lip; and the middle of your chin); your under-eye area; and right above your cheekbones. Apply a thin line with this highlighting mixture right above your jawline. Blend the highlight until seamless.
The "contour," or darker make-up, goes on the sides of your nose, right under your cheekbones, and around your hairline. Blend your contour just like you blended your highlight.
Apply finishing powder to your face to reduce the shine and set your make-up.
For any questions or comments contact me at [email protected] or address letters to On Fleek This Week C/o Searchlight Newspaper, Lower Kingstown Park, PO Box 152, Kingstown.