Posted on
How to apply False Eyelashes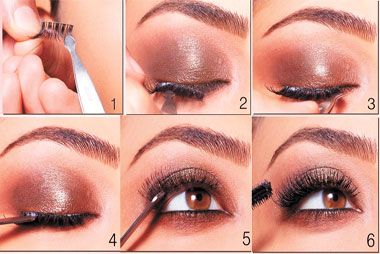 Iaf you're looking for the most dramatic of eyes, then, hands down, false eyelashes are the way to go. But they are by far not the easiest to apply. Follow these steps and I can assure you it won't be that hard.{{more}}
First you'll need eyelashes of your choice, lash glue, small scissors and a tweezer.
Take your lashes and place them loosely on your lid at the beginning of your eye. Any excess past the end of your eyelashes are to be cut off. Hold the lashes and curve them between your fingers to round them out. Place the glue on the entire lash and let it sit for a minute to let the glue get a little tacky. Now, this is generally where most of the problems happen. There are many ways to apply the lashes, but I find the best way is to simply hold the lashes with tweezers, tilt your head backwards and look into the mirror. Place them onto your lash line, gently using the tweezers to clamp down and secure them. Let them dry and finish the look with some eyeliner and mascara.
Quick tips – Lashes should never be worn more than the duration of time they are required. You run the risk of serious eye infections.
They should never be shorter than the length of your natural lashes. It's never a good look. Unless you are using half lashes at the end.
If you're having problems applying lashes with this method, you can cut them in two or even three and apply in sections.
For any questions or comments contact me at [email protected] or address letters to On Fleek This Week C/o Searchlight Newspaper, Lower Kingstown Park, PO Box 152, Kingstown.