Posted on
Playing with prints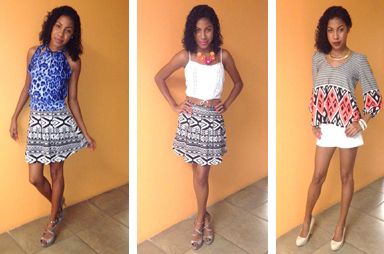 Tue Feb 24, 2015
Whether the print on the skirt is tribal or the shirt is striped, I bet we can all agree that printed clothing is fun and very chic. Prints undoubtedly turn up the heat of our outfits; however, there are a couple things we must take into consideration when playing with prints.{{more}}
1. Print on print may look tacky.
Prints bring attention to you, so you may want to avoid pairing a printed article of clothing with another printed piece. However, remember fashion is about perception, i.e. that of the onlooker and that of the person rocking the outfit; so if you're comfortable with it, then that's your prerogative.
2. Solid colour clothing paired with printed clothing makes the print pop!
Take a look at the photo at left. The black and white tribal print skirt attracts the eye because there is not much contrast with the solid white top it is paired with. Solid colours strike a balance when they are worn with prints.
3. How to wear mixed prints
Mixed prints are articles of clothing with a combination of two or more prints. The trick to wearing mixed prints is to pair the prints with a unifying colour. In the photo at right, the model is wearing a combined print top. Notice that specks of white can be seen between the prints on the top; therefore, white can be used as a unifying colour to balance out the outfit and that's why the white pair of shorts works perfectly with the mixed/combined print top.
The outfits modeled in this week's article by Bryanna Hadaway come to you courtesy of The Wardrobe, located on the first floor of the DeNobriga's Building, Kingstown.
For any questions or comments contact me at [email protected] or address letters to On Fleek This Week C/o Searchlight Newspaper, Lower Kingstown Park, PO Box 152, Kingstown.