Posted on
Taiwan donates PCR machines to SVG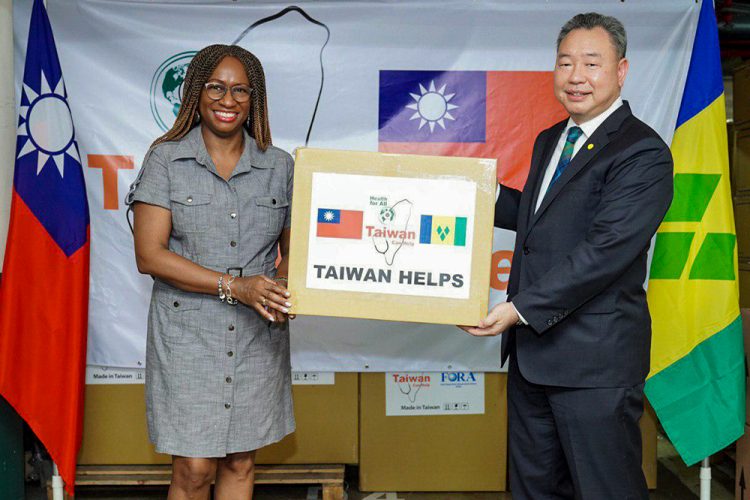 Two PCR machines and other medical equipment and supplies needed in the fight to contain COVID-19 have been donated to St Vincent and the Grenadines (SVG) by the government and people of Taiwan.
The two PCR machines / auto nuclei analyzers, which are valued at US$30,000 each were handed over last Friday, May 15 to the Embassy of St Vincent and the Grenadines in the Republic of China (Taiwan), on behalf of the government and people of SVG.
Last Friday's donation, which also included surgical masks, N95 masks, protective overalls, isolation gowns, infra-red thermometers; auto temperature measurement stations and hydroquine tablets was handed over by Ambassador Alexander Yui, Director General of Latin America and the Caribbean in the Ministry of Foreign Affairs.
"Taiwan has been a distinct global leader in combatting the death toll, illness and devastating disruption caused by COVID-19. Despite the fact that this country is denied participation in the World Health Organization (WHO), Taiwan has shared its highly effective health protocols; expertise; medication and equipment, not only with its diplomatic allies, but with major decision-makers on the global stage. Thus health diplomacy may now be regarded as one of Taiwan's means of reiterating the efficacy and strength of its sovereignty. St Vincent and the Grenadines remains grateful for the 39 years of friendship which our countries have shared," a release from Andrea Bowman, Ambassador of SVG to Taiwan said.
The donated PCR machines, used to test for the COVID-19 virus, were handed over to Ambassador Bowman on the same day that SVG finally received a PCR machine that had been ordered since March to allow for in-country testing for the virus. The shipment of that machine, purchased with funding from the Eastern Caribbean Central Bank (ECCB) had been delayed since that time.
Additionally, the International Atomic Energy Agency in Taiwan has donated two PCR machines to SVG. This means that after months of waiting, there will be five PCR machines here in SVG.