Posted on
Donnie will always be the love of my life, says wife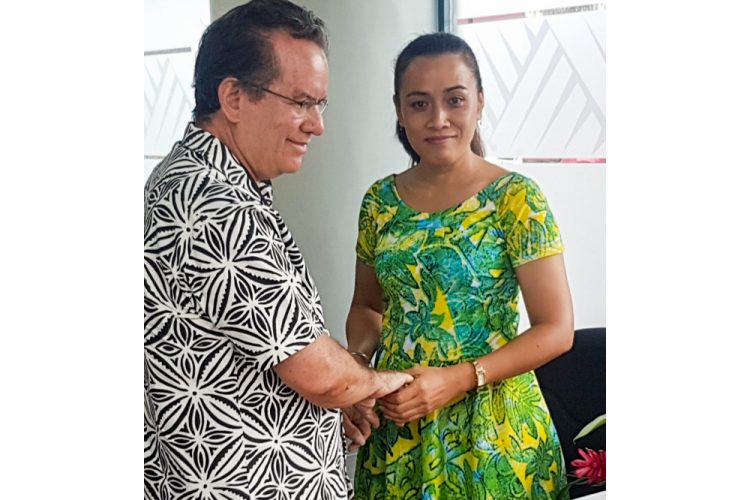 by Antonia Wong
Talofa lava, ni sa bula and good morning. I am Antonia Wong, wife to Donnie Fitzgerald Fedelis De Freitas. I would like to say a few words about my relationship with Donnie as husband and wife.
Donnie and I started courting in early 2013. As mentioned in one of the earlier tributes, Donnie was the first Regulator for the Telecommunications, Broadcasting, Electricity and Postal Sectors for the Government of Samoa. I was at that time, working with the World Bank Group in Samoa, until I was transferred to work here for the Bank in Suva, in 2015.
I had heard of Donnie since he arrived in Samoa in 2009, and word on the street back then was that there was a new fella in town from some country called St Vincent. The relationship started when the World Bank funded the Pacific Connectivity Project, in which the Office of the Regulator played a very important part. I remembered sitting in the back of conference and meeting rooms watching Donnie and at the same time wondering what language this fella was speaking because I could not work out what he was saying because of his accent.
I remembered our first date – it was just like yesterday. Donnie didn't say much, didn't ask questions, he just looked chilled until he confessed later that he had done a quick research on me with help from some of his staff and all the boxes were ticked. Our first date was a lunch at one of the local hotels in Samoa. Our first meal together on that date was fish & chips. After that, the relationship blossomed and we were inseparable. We did everything together, we were each other's shadows. Some of our close friends in Samoa and Fiji would agree, that our personalities were completely opposite to each other. Donnie was a witty, full of life, exuberant, bubbly person while I was more subdued and quiet by nature.
To me, his whole life, outlook and persona define Simplicity. He was the same Donnie I fell in love with in 2013, until the day of his passing.
His favorite things to do when passing time or for leisure were simple. It was either to play suduko, read a book, give our three mutts belly rubs, or blasting the computer sound at full volume to the sound of Sweet Radio SVG. He was also passionate about gardening.
He was a family man. Donnie was always bragging about his family as the craziest and the best family in the world. He sometimes put them on speaker so I could listen in to their family's exuberant exchanges which he called "family craziness".
His face would light up every time he spoke to his family despite me trying to work out what they were saying. He would just say, "Don't worry babe, my family are crazy, that's how they speak – fast forward English". He loved them all dearly, and his son, Donito, even more. When Donito and Judith moved from Cuba to Ottawa, Canada, early this year, he said he would like to visit them when the travel restriction eased. Unfortunately, God had a different plan for him.
We got married on June 8th 2018 at the Suva Magistrate chapel in the presence of around 8 close friends – not so many friends and families knew about the occasion. It was a happy day. I was waiting patiently for Donnie to whisper an "I love you" into my ear, instead, he was telling our friends present during the ceremony not to post any pictures on social media. That was Donnie, very private and very simple.
The triple bypass Donnie had last October in Sydney, Australia at the St. Vincent Hospital was the first big blow to my reality that he was very sick. Despite the complications involved with the medical procedures, we were both determined to fight it together. As usual, our families and close friends rallied around to pray for Donnie's surgery and we came back to Suva feeling victorious. When the nurses wheeled him into the Intensive Care Unit after the surgery, he was already awake and was looking at me. He was chanting something to the nurses, this is my beautiful wife, she is the most beautiful woman in the world, she looks after me so well and the nurses were just beaming. The next morning, I went to check on him, I asked him – do you remember what you said to me last night, he paused and looked at me – what did I say. I repeated back to him what he had said, and his response was – that's not me, I don't say that kind of nonsense. I should have recorded his chant the previous night while he was high on sedation.
My office has been on mandatory home based work since March 24th because of the current global situation. They were the best weeks of my life having worked together with him from home. He was teaching me how to speak Spanish and promised to teach me how to play chess. We had so many plans for the future and even a bucket list that continues to expand with a new added place for us to visit and things to do together.
When the Covid-19 reached the shores of Fiji, Donnie took precautionary measures. Our Saturday visits to the market came to a halt and our home helper was informed not to come until the pandemic eased. He was vigilant in keeping himself safe from the virus, instead a different illness has taken his life away from us.
Donnie was and will always be the love of my life. He was my sun and I was his shine. He was my moon and I was his light. He was my sweet and I was his heart. If he is listening right now, he must be saying, eh, eh, my girl has lyrics.
To our families and friends in St Vincent and the Grenadines and the States, Donito and Judith in Canada, I am bringing back Donnie to St Vincent, his home, for his final rest, so its not goodbye but hasta luego.
On the night Donnie got ill, we were preparing dinner not knowing that it would be our last meal together – and the menu that evening was fish and chips.
Te amo mi amor. You will be forever in my heart.
Adios my rock, my Donnie.
(This is an edited version of the tribute delivered at the funeral)
The full funeral service may be viewed at https://youtu.be/oMuHXbvrjgo
Other Tributes were received from Hinauri Petana (Samoa High Commissiner to Australia) and Shivnesh Prasad (World Bank Suva office Digital Development Specialist)