Posted on
"Nice One" Franklyn A tribute by Geoffrey Venner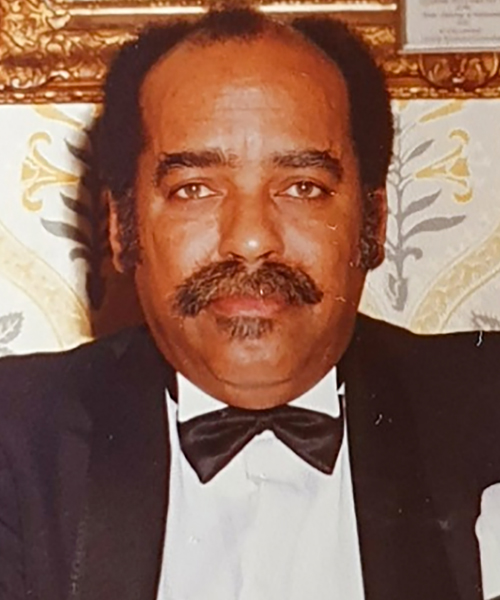 It is in all likelihood old news by now that Dr Franklyn Jacobs passed away on the 20 March this year in the United Kingdom. What might not be so well known is that Franklyn's funeral service took place on Wednesday 15th April at 9.25 a.m. UK time – in an empty crematorium chapel in North London, officiated by the priest from the church where he worshipped regularly! For a man who always had lots of people in his orbit, thrived on people and needed people contact, and who would have rightly expected a 'full house' send off, this was indeed weird stuff.
But, alas, this is the world we must live in now, and for how much longer we do not know. The Coronavirus is not to be trifled with, and social distancing is an essential part of any respectable plan to overcome it so that normal life can be resumed, or, perhaps more likely, so that we can arrive at a 'new normal'.
Franklyn, the Social being, would have been disappointed at having an empty building all to himself, but Franklyn, the Doctor, would have approved of the social distancing, and he would also have hailed the opportunity to have that service live streamed across the Internet so that his immediate and extended family and his legion of friends everywhere could be with him, though not in person. Thanks to his children Leonie, Franka-Jo, Travers and Mark for making that possible. They are also contemplating a memorial service in SVG and one in the UK for some time in the hopefully not too distant future, Coronavirus permitting.
Now, another weird thing about that service in an empty chapel was that there were two priests there. One was the real priest officiating and the other was our Franklyn, all set to go. Of course, he was not a real priest, but many of us called him 'The Priest' or just 'Priest' for almost his whole life. And he has had to endure it, although, I suspect, he did not really mind at all most of the time.
There is indeed a good story about how he came by the nickname, but I will not tell it here. Suffice it to say that Franklyn must have felt at some point in his childhood that he would rather like to be a priest, pretty much like so many of us growing up wanted to be this, that or the other. He must have 'gone over the top' in some way, and, in a family where just about everyone had a nickname it was inevitable that he would be 'ordained'.
The Jacobs family, like so many other families across SVG, was well rooted in religious belief. For the Jacobs and Venner kids growing up in Kingstown in the early days, church was compulsory. Especially as the Church was next door! But it did not stop there. In the Jacobs household the grown-ups were always on duty for the Lord. Public service and service to the community, duty, loyalty, honesty, fairness, hard work and selflessness were all on display, and encouraged. It was impossible not to be influenced in some way. One of the things all the Venner and Jacobs kids remember from those early days are the seemingly endless drop-in visits through the Jacobs 'open door' from people of all stripes seeking advice or assistance, bringing issues of some kind for absolution or recommendation, or just making a 'pit stop' before moving on to or from some form of hard work.
Franklyn chose not to become a real priest, which was a good call. Instead he opted to become a medical doctor and in that role found his true calling. I am obviously biased, being his cousin, but, to me, 'The Priest' was a brilliant GP. I have seen him in action at his clinic in North London, and on his phone at home at all hours and on any day, serving his patients and genuinely cavvvvvring for them. He was often going the extra mile. He was being that exact person his aunts had brought him up to be. But I also think he may have been trying to make a connection with his father, Dr Cooper Jacobs.
Franklyn never knew his mother because, sadly, she died soon after his birth. Then his father left to study medicine in the UK and stayed on after, remarrying and going into general practice in Bradford, where his second son, Michael, was born. Franklyn was therefore left in the care of his grandmother, Mrs Gladys Jacobs, and Aunts Kay, Jenny and Cecie, along with Uncle Barney, for most of his formative years. He was particularly close to Aunt Kay and they shared the same sharp intellect, and neither suffered fools gladly, although both cared deeply about family, friends, and the wider community. The way these impulses played out at times in conversations with 'The Priest' would have left some poor souls wondering 'what the hell just happened'! But his caring and fun loving nature always saw him through.
Having graduated from the University of the West Indies in 1968, and after doing early stints as a doctor in Trinidad and in SVG, Franklyn opened his long innings within the UK National Health Service in 1977. He started his own general practice five years later in 1982 in North London and carried on there until retiring as a GP in 2007. He was, along with the likes of Lord David Pitt of Hampstead, one of the founding members of the African Caribbean Medical Society. He represented and reflected the interests of the London African Caribbean community in a variety of roles within the local health and welfare bureaucracy over almost 40 years of professional service. One such role saw him serving as a Medical judge within HM Courts and Tribunal Service until 2014.
Franklyn also found time for social activities on a grand scale. In his heyday he seemed to somehow pop up wherever Caribbean people were meeting or where something Caribbean was on the agenda, or in the pot! Notting Hill Carnival, England and West Indies at Lords or the Oval, or sometimes wherever that post-colonial battle was taking place, he would be there. He would also make it home to SVG as often as he could to catch up with his friends and family there and to recharge. He never lost touch with his roots.
In that empty chapel in North London on Wednesday 15th April, 2020, he set off on his final journey to music from the Gladiator, leaving the theatre of this life, and with his mother and father and his dear aunts, and Uncle Barney, waiting for him in the distance. In his own famous words, "nice one" Franklyn!