Posted on
Tribute to Gailene Windsor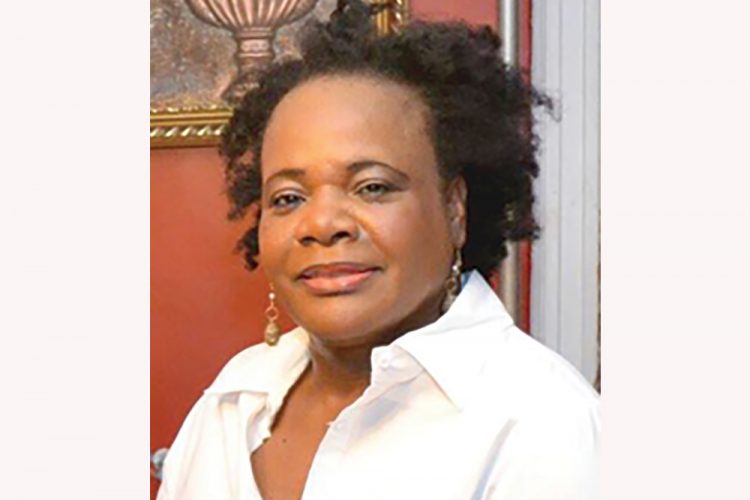 delivered by Doris Mc Intosh
President of the St Vincent and the Grenadines Netball Association,
at the Funeral Service on Friday, March 20, 2019
at the Methodist Church in Kingstown
The St Vincent and the Grenadines Netball Association mourns the passing of Ms Gailene Patricia Windsor. Gailene was an avid netballer, indeed a formidable player, who started playing the game while she was a student at the Kingstown Government School, the school which throughout the years we refer to as Stoney Grounds Government School, under the guidance and direction of then Education Officer for Physical Education and Sports, the renowned Mrs Hermina Cambridge. She then moved on to play at the club level, playing in national tournaments for many years as a member of Paragons, Falcons and Red Sox. She was also a member of the Vets Sports Club upon her return to St Vincent and the Grenadines a few years ago, and up to the time of her passing.
Gailene towered over her Netball rivals, especially given that her home in those days overlooked the Kingstown Netball Centre. She was always on the Netball Court and was regarded as a player whose fitness level was considered to always be at a high level, and one who evidently wanted to raise her own level of play, armed with a profound desire to stuff herself with the fundamentals of the game which she loved dearly. Some of her playing partners would tell stories of her never ever completing her domestic chores, opening up herself to shouts from her now deceased grandmother Ms Toney to get home immediately to ensure that her assigned chores were completed. Gailene would casually roll her eyes and leave a 'hot' game to go home to finish her chores, but not without saying: ''Girls, I will be back." And very often, the girls would be surprised when she returned shortly afterwards, and she would get back on to the court without even the slightest indication of a prior interruption.
Gailene was a very energetic, versatile but primarily formidable mid court player and shooter who made huge efforts to outplay, outshine and outwit her opponents, giving her all in every game in which she played. She was indeed a great inspiration to her team mates. She would work out strategies for each game and studied her opponents and the game very well. Gailene's ability to play Netball well was recognised by the then national Netball selectors and she represented St Vincent and the Grenadines between 1974 and 1978 at the regional level, and also had the distinct honour of being on the team which represented St Vincent and the Grenadines at the World Netball Championships held in Trinidad and Tobago in 1979.
During that period, she played alongside many former outstanding netballers, namely Stella Boyea, Jose Providence, Cornelia Arthur, Jackie Quashie, the Lindsay twins, Jacqueline and Gillian, Venita Wood, Merla Evans,Silma Millington, Genita Lewis, Barbara Steele, among others. It is also to be noted that Gailene was a member of a representative Caribbean American Netball Association team which played in a tournament that was held in Jamaica in the late 1980s. When Gailene migrated to the USA in early 1980, she continued her Netball career and played in the American Netball Association League. And she was subsequently one of the founders of the Caribbean American Netball Association, and also immersed herself in the powerhouse Hairoun Sports Club.
In the light of her advocacy for women in Sports and particularly Netball, she was elected first as Vice President of USA Netball and subsequently as President of that august body. Gailene also went on to serve for many years as President of the Caribbean American Netball Association. One of her biggest accomplishments was to get the tournament location lighted. At that time the tournament was played at Lincoln Terrace in Brooklyn, New York.
Gailene's outstanding contribution to Netball and Sports in general, not only here in St Vincent and the Grenadines but also in the USA, was recognized by the Government of our beloved country when she was accorded the signal honour and distinction of being named Sports Ambassador in 2015. The St Vincent and the Grenadines Netball Association, therefore, extend profound condolences to her entire family and salutes this National Treasure whose contribution to Netball here in St Vincent and the Grenadines, throughout the region, and also in the USA, will long be remembered. Her pleasant personality will also leave life-long memories for us all.
I also use this opportunity this afternoon to convey to the entire family heartfelt condolences from the Executive bodies of the International Netball Federation, the American Federation of Netball Associations, and also the Caribbean Netball Association. They would all wish to place on record the outstanding contribution which Gailene made to Netball here in St Vincent and the Grenadines, in the region, and also internationally, as a player and administrator.
All that is left for me now is to say farewell to Gailene and to thank her entire family for sharing her and her talent with us in our quest to further develop this noble Women's Sport. There is no doubt in my mind that netballers here in St Vincent and the Grenadines, in the wider Caribbean, and also in the USA will always think of her as the Netball giant that she truly was.
May Almighty God grant Gailene eternal rest.