Posted on
Football affiliates receive training in financial matters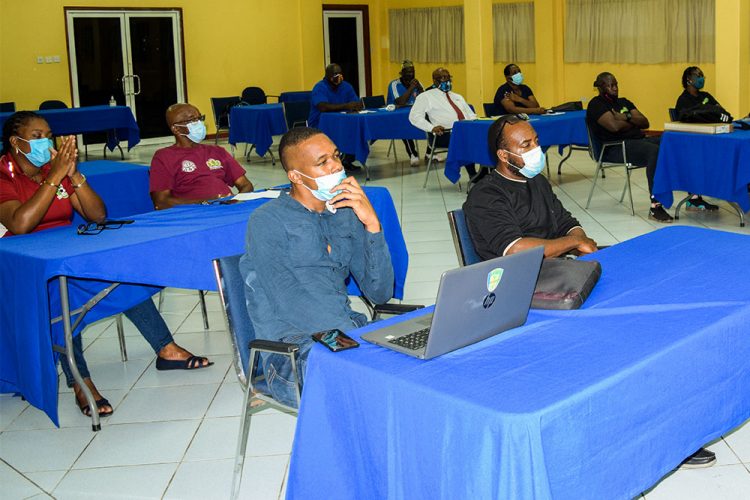 Affiliates of the St Vincent and the Grenadines Football Federation (SVGFF), after being engaged in two weeks of training, will be better equipped to handle matters of finance of their respective organisations.
This, as a series of Financial Reporting Workshops, which began last Tuesday at the Methodist Church Hall in Kingstown, informed participants of the know-how of financial record keeping, budgetting, and cash flow management.
Financial Expert Cerlian Russell, who is the main facilitator of the workshops, called on affiliates to bring into their clubs, leagues and associations to develop that culture of accountability.
"If the federation asks you for verification on some large expenditure, you should be able to say, look the contract here… Keep records, implement your own voucher system that will create a paper trail, give invoices of everything you do (because) at the end of the year, when you want to do your financials, your receipts; it gives your accountant or financial person a chance to construct your accounting records," Russell told participants at the first workshop.
Russell, a former executive member of the SVGFF, called on affiliates to adopt a professional and business approach to their administration of the sport.
First vice-president of the SVGFF, Otashie Spring, in outlining the purpose of the workshops, said, they are part of the professionalization of the overall football product.
"The workshops are part of the re-culturing of our operations, to help empower the professional mannerism of all parties, not just the executive of the St Vincent and the Grenadines Football Federation, but our clubs, and is also making affiliates more financially viable, stable and independent," Spring said.
Spring informed that at the conclusion of the workshops, affiliates will not be left to fend for themselves, as there will be guided through the various processes.
"Within that process we are going to have tutorials support initiative, whereby if members still have issues after the workshop, if anything is not clear to them, they can come face to face with us and speak to our representatives who will be on hand to lend the necessary support," Spring related.
"We expect that all affiliates, after receiving grants from the SVG Football Federation, will be submitting reports as to how they had dispersed the funds given to them," the SVGFF second in command added.
The list of affiliates has been divided into six groups, with a maximum of ten members per group.
The workshops, which are also carded for Barrouallie and Georgetown are set to conclude March 27.