Posted on
Athletes get first taste of competition on Diamond track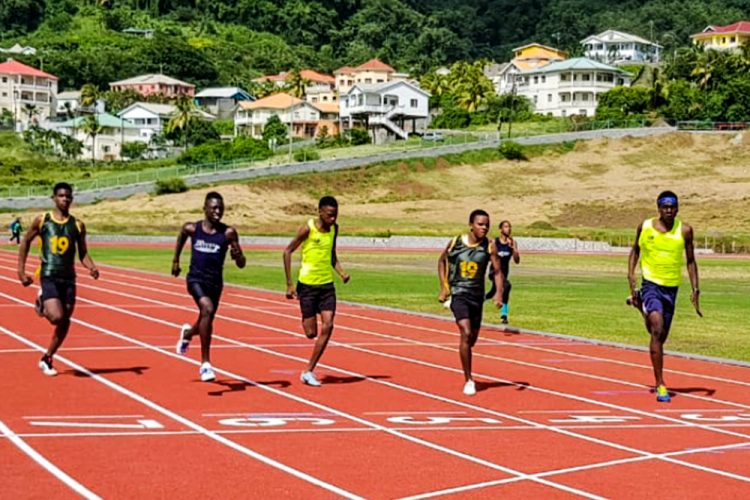 Athletes from the X- Ceed Sports Club, the X- Cel Track Club, the IT- DAT Academy, Chatoyer, as well as High Performance, the Troumaca Ontario Secondary School and the St Vincent Grammar School, were part of an Invitational Meet last Wednesday, November 4, to commission the Diamond Track Facility.
Tyra Charles of the IT-DAT Academy established a piece of history, as she was the first to cross the finish line in the first event of the meet. Charles won the 400 metres females Under-14, in a time of 64.28 seconds.
Taking the 400 metres male race was Israel Cumberbatch of the St Vincent Grammar School, in 57.87 seconds, while Odesha Nanton of the IT- DAT Academy placed first in Under-20 female, clocking 58.08 seconds.
Winning the other 400m events were Amal Glasgow of X- Cel, who took the male Under-20 in 50.44 seconds; Annecia Richards of IT- DAT Academy, the female open in 60.56 seconds and Yonick Murray, also of IT- DAT Academy, the male open, in a time of 48.69 seconds.
In the 100m races, X- Ceed's Shanquania Jacobs won the female Under-14, stopping the clock at 13.25 seconds, with Ricardo Willians of High Performance taking the male segment in 12.25 seconds.
Athletes from the IT-DAT Academy then ran off with the Under-20 and open titles.
Shante Matthias topped the Under-20 females in 12.31 seconds; Kyle Lawrence, the Under-20 males in 10.72 seconds and Andrea Gonsalves, the female open, winning in a time of 12.66 seconds.
Sage Primus crowned off IT – DAT's dominance with an 10.80 seconds clocking in the open males.
Meanwhile, in the females Under-14 200m, Letecia James of X- Ceed was first in 28.15 seconds; High Performance's Ricardo Williams won the male Under-14 with a time of 24.87 seconds, with X- Cel's Amal Glasgow winning the male Under-20, clocking 22.41 seconds.
Zamesha Myle of X- Ceed pouched the female 200m open in 25.53 seconds and Yonick Murray of IT- DAT Academy was the male open 200m champion, as he timed 21.65 seconds.
The 800m open races were won by Linda Mc Dowall and Markie Edwards, both of IT-DAT Academy. Mc Dowall won the female bracket in 2 minutes 29.35 seconds and Edwards, the male division in 2 minutes 01. 36 seconds.
And, the Troumaca Ontario Secondary School won the female medley relay in 2 minutes 41.66 seconds, with the X- Cel winning the male version in 2 minutes 15.26 seconds.
The Diamond track is a synthetic surface that is part of phase one of the National Stadium project. The track is complemented by a full sized football field.
The track is expected to host a regional event as early as next year.