Posted on
Village Ballerz take Stubbs football league title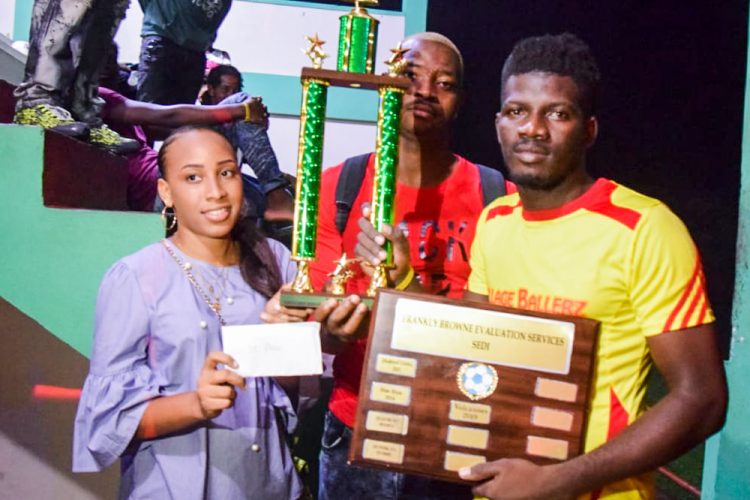 New comers Village Ballerz beat first time entrants Sion Hill 4-1 on penalties to take the Hairoun Beer National Lotteries Authority South East Development Inc. SEDI league title last Sunday at the Stubbs Playing Field.
This after both teams had played to a 1-1 draw in regulation time, played on a rainy Sunday afternoon.
Raphique Delpesche scored from the penalty for Village Ballerz, before Akeeni Roberts netted a rasping low for Sion Hill, to equalise.
It was Village Ballerz' Rondell Thomas who was adjudged player of the final, the best striker and the overall most outstanding player.
Anthony Hazell, of Village Ballerz, copped the best goalkeeper award, while Sion Hill's Jamol Yorke was named the best defender.
Meanwhile, Top Strikers' Desborn Lavia was voted best midfielder, with Police's Daniel Patrick, the top goal-scorer.
Calli Ballers' Reon Bradshaw got the award for the most promising young player, James Nelson of Village Ballerz was adjudged the best manager and Village Ballerz, the most disciplined team.
Sion Hill were the best defensive team and Police, the best attacking unit.
The two other major awards presented at last Sunday's closing ceremony saw Volcanoes taking the third place league trophy, while Calli Ballers were the knock-out champions.
This year's league was scaled down because of the short window space given by the executive of the St Vincent and the Grenadines Football Federation, for leagues to operate.