Posted on
Lower Questelles rises in South Leeward football competition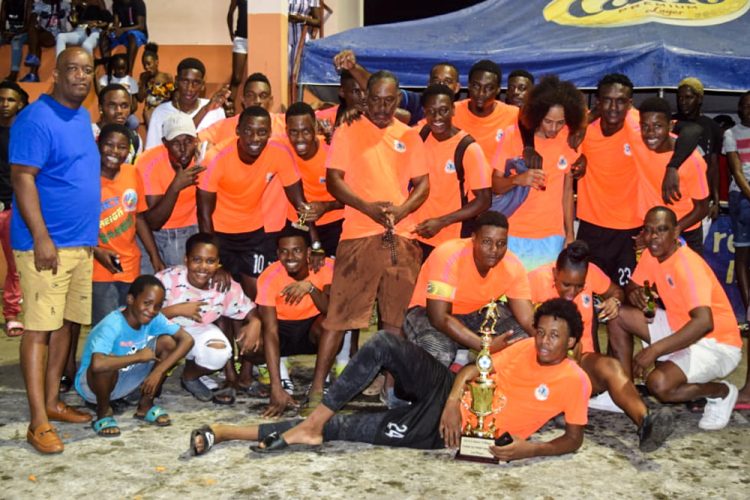 Lower Questelles rose to the top of the pile to champ the 2020 Carib Beer South Leeward Inter-Village football league Freedom Challenge, which concluded last Sunday at the Campden Park Playing Field.
Facing home team Lower Campden Park, Lower Questelles silenced the partisan crowd, as they came away victors, 3-1.
But it was Lower Campden Park which drew first blood, when Andeen Charles netted a long range shot.
Then Lower Questelles took charge, as Keron Pitt headed home the equaliser, before Nazir Mc Burnette hit a brace to leave the contest in favour of his team.
Lower Questelles thus, played undefeated in the competition.
After coming through the preliminary round, Lower Questelles defeated Vermont in the quarter-finals and Largo Height in the semi-finals.
On the other hand, Lower Campden Park ousted Clare Valley in the quarter-finals and Roucha Bay in the last four.
Largo Height went on to win the third place play-off, beating Roucha Bay, 2-0.
Lower Questelles earned $1,500; Lower Campden Park – $1,000, Largo Height – $700 and Roucha Bay – $400. All four outfits got trophies to go along with the cash prizes.
Plan Reload were adjudged the most disciplined team.
Camillo Samuel, of Largo Height, copped the best gaolkeeper accolade, while Phil Lynch of Roucah Bay secured the best defender award.
Kesson Rouse, who plays as a midfielder for Top Campden Park, was named the most outstanding player.
Meanwhile, Tevin Slater of Clare Valley and Rahiem Westfield of Chauncey, shared the top goal-scorer award, as they both netted ten goals.
And, Ettricia Jeffrey of Plan Reborn was adjudged the most promising female player and Shaielle Williams of Lower Campden Park, was named the most outstanding female player.
Fourteen teams contested the competition.