Posted on
ARGO Sponsors Awesome FC All-Female Team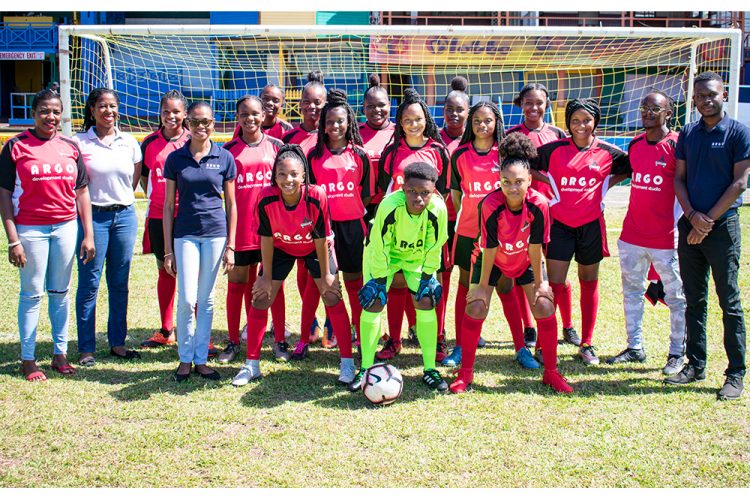 On Saturday, September 26, ARGO Development Studio outfitted the Awesome FC all-female team with complete football kits, comprising of jerseys, shorts and socks.
Awesome FC was formed by Mr. Dominique Stowe and Renson Haynes in February 2016. The club currently has three school teams, including a 25-member all-female team, predominantly made up of secondary school students in and around Kingstown, with a few students from rural schools.
Stowe, on behalf of the Awesome Football Club, expressed his thanks to ARGO
for their generous sponsorship of the newly formed female team, for the upcoming 2021 season. He stated that this sponsorship has generated a buzz through the entire team and persons connected to the club, and that the club seeks to live up to its vision and mission and most of all, the club's core values of perseverance, discipline and respect.
ARGO is an international award-winning architectural company which began operations in St. Vincent and the Grenadines in July 2019 and is located on Grenville Street (downstairs the World Paediatric Project office). ARGO specialises in a design and construction process called BIM (Building Information Modelling). BIM allows for buildings to be designed in a scientific way, making them increasingly resilient to the effects of natural disasters. This process allows ARGO to design, cost and construct intelligent buildings in a 3D virtual environment achieving savings of up to 20 percent over conventional 2D delivery. ARGO also has offices in Barbados, Dominica and Ireland, and several project offices in the Caribbean.
ARGO's managing drector David Campion says that the company's ethos regarding corporate social responsibility, is to create a strong bond with the communities within which they operate through outreach programmes and sponsorship to charities, schools and sports clubs. ARGO's aim is to connect with the wider community by building strong connections both inside and outside the organisation.