Posted on
Sunil Ambris hits softball century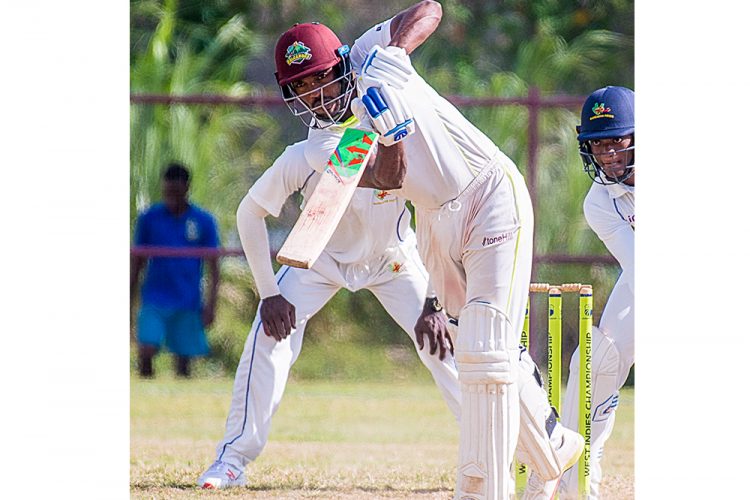 ST VINCENT AND THE Grenadines, Windwards Volcanoes and West Indies batsman, Sunil Ambris, lashed 103 not out, to lead defending champions of the National Lotteries Authority TBPO softball cricket competition, Country Meet Town Out Ah Trouble, at the Dauphine Playing Field last Saturday.
Ambris' knock off just 43 ball, saw Out Ah Trouble making 201 for 4 from their 15 overs, as the match was reduced because of a late start.
Kurton Lavia contributed 24.
In reply, New Level, were dismissed for 72 in 14.2 overs. Courtney Joyette scored 19.
Bowling for Out Ah Trouble, Davian Barnum had 3 for 5, Shemroy Primus, 2 for 7, Alwayn Quashie 2 for 10 and Kenron Williams, 2 for15. Out Ah Trouble won by 129 runs.
In Saturday's first match, Challengers won by 70 runs over Fairbaine.
Challengers batted first and made 145 all out in 19.3 overs. Britnol Scott hit 28 and Javil Harry, 22.
Bowling for Fairbaine, Joel Browne took 3 for 28, Dorian Dallaway, 2 for 19 and Glenson Guy, 2 for 33.
Guy led with 19 in Fairbaine's reply of 75 all out in 18.5 overs. Winston Bascombe snared 3 for 5, and Randolph Bascombe, 3 for 18.
Sunday's fixtures resulted in wins for Nice Radio Clinchers, Rangers United and Bank Of SVG All Stars.
Clinchers beat Israel Bruce Smashers by four wickets.
Smashers were sent tunbling for 37 all out in 12.2 overs, undone by the bowling of Okieph Andrews, with 4 for 9, Donalson Harry, 2 for 3 and Kerwin Browne, 2 for 11.
But Clinchers made heavy weather of the response, reaching 38 for 6 from 9.2 overs. Renrick Peters took 2 for 8, bowling for Smashers.
Rangers United then won from Fairbane Chennai Strikers by two wickets. Chennai Strikers scored 76 all out in 13.5 overs, with Kegan Cordice scoring 22.
Domarley Roberts had 3 for 15, Cavalon Simonnet, 3 for 20, and Akeem Charles, 2 for 10.
Rangers United then got to 77 for 8 from 15.2 overs, with Jason Jackson hitting 17 not out.
Bowling for Chennai Strikers, Kegan Cordice took 2 for 6, Nikie Antoine, 2 for 14 and Kenroy Delpesche, 2 for 16.
And, All Stars beat Stag Older Boys by six wickets, in a 17-over contest, because of rain.
Older Boys scored 94 for 6 from 17 overs. Trevor Bailey scored 19, while Kelly Murray picked off 2 for 16.
All Stars replied with 95 for 4 in 10.5 overs, with Ron Adams lashing 42.
Rohan King was Older Boys' most successful bowling, copping 2 for 20.