Posted on
Former national footballers thumb 'togetherness' for 1995 success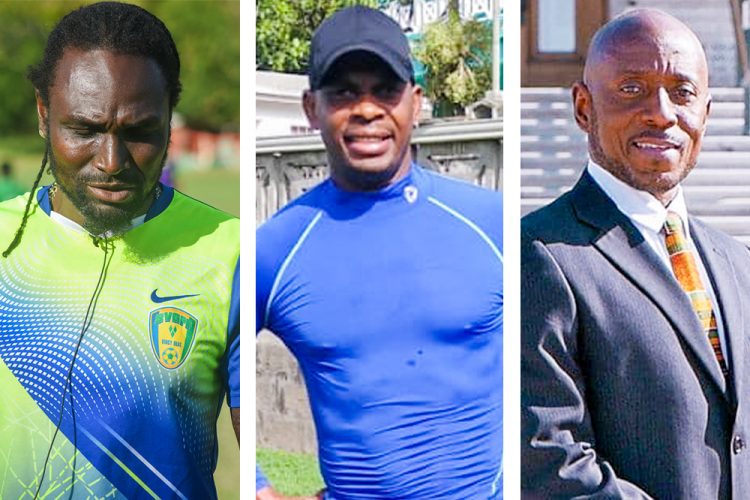 TWENTY-FIVE YEARS after placing second to Trinidad and Tobago in the Shell Caribbean Cup final played in the Cayman Islands, former national footballers Wesley "Butu" Charles, Christopher "Brazilian" Harry and Fitz Bramble, have all pointed to team bonding, as the main ingredient for their success then.
Reflecting on the team sojourn, Charles said, "We were a bunch of guys who loved one another's company… We enjoyed playing with one another… We had a core of grown men like Fitz (Bramble), Tiba (Tyrone Prince) and the youngsters in the team, like me, we looked up to those guys".
Charles, noted as well the team's fitness, commitment and coach's input.
"We were a fit team, who trained three times per day, 5 a.m., 11 a.m. and 4 p.m., sometimes with little financial rewards at the time, but we did it… We also had a coach (Lenny Taylor), who we believed in and who believed in us," Charles added.
Sharing similar sentiments was Harry, who stated, "We were a bunch of guys who were together… We loved playing together, and we were really fit". Harry thought that Taylor's style of coaching and man management were also crucial.
"We played for him, because we had that great understanding and he believed in us… He motivated us a lot, and made us believe that we could do anything," Harry related.
Also weighing on the feat, was Fitz Bramble, who was the team's number one goalkeeper.
Bramble stated that the hallmark of the team was the "level of self-belief and black consciousness".
"Coach Lenny Taylor engendered in us that consciousness as young black men, which made us mentally tough," Bramble underscored.
Bramble posited that the players bought into Taylor's philosophy, which added to the togetherness of the team.
"We would be in camp without food and that did not bother us, because our coach taught us how to be tough in such
situations," Bramble informed SEARCHLIGHT.
The players' comments came in light of the fact that earlier this week marked the silver anniversary of the accomplishment of the runner- up spot in a regional football tournament.
Additionally, that 1995 achievement replicated the much talked about achievement of the 1979 and 1981 team, which also were runners-up to Haiti and Trinidad and Tobago, respectively.
But the biggest feat of the team was their qualification to the 1996 CONCACAF Gold Cup in the USA.
This remains the only qualification by St Vincent and the Grenadines to this prestigious tournament.
SVG's 1995 journey
The Vincentians, before reaching the Cayman Islands, had ditched Dominica 1-0 on aggregate.
Kendal Velox had scored the lone goal in his team's home match against the Dominicans here at the Arnos Vale Playing Field, with the second leg played in Dominica, ending 0-0.
Moving on to the second round, St Vincent and the Grenadines put nine goals past Montserrat in the first leg here. Rodney Jack and Andre Hinds both had hat-tricks, with James Chewitt, Christopher Harry and Wesley John scoring one each.
SVG then blanked Montserrat 11-0 in the away leg. Jack hit six, Hinds and Chewitt scored braces and Harry the other.
This put SVG in the final round in the Cayman Islands, where they were grouped with French Guiana, Antigua and Barbuda, and host Cayman Islands.
Facing French Guiana in their first encounter, SVG outplayed their opponents, winning 3-1.
On the score sheet for the Vincentians were Velox, with two and Jack netted the other.
SVG then overcame Antigua and Barbuda 5-1. Jack scored three, and there was one each from Hinds, Chewitt and Tyrone Prince.
And, in their 2-2 draw with the Cayman Islands, Rohan Keizer netted both goals.
This meant that St Vincent and the Grenadines ended the group on top, and set up a semi-final meeting with Cuba, which placed second in the other group played in Jamaica.
St Vincent and the Grenadines upstaged Cuba 3-2 in the semi-finals, played July 27. The Vincentians' goals were scored by by Hinds, Jack and Prince.
However, in the final, which was played on July 30, St Vincent and the Grenadines was outclassed by Trinidad and Tobago, beaten 5-0.
The team of players that travelled to Cayman Islands for the finals included, Fitz-Gerald Bramble, Monty Butler, Dexter Walker, Dexter Browne, Andre Hinds, Kenlyn Gonsalves, Rohan Keizer, Kendal Velox, Marlon James, Marlon Huggins, Wesley Charles, Rodney Jack, Cornelius Huggins, Burton Forde, Wesley John, Tyrone Prince, Christopher Harry, and Avandale Williams.
Apart from head coach Taylor, the management team included Everad Young, the assistant coach; Arnold Dalrymple – manager and Dr Perry De Freitas, physiotherapist.