Posted on
New cyclist enters the national fray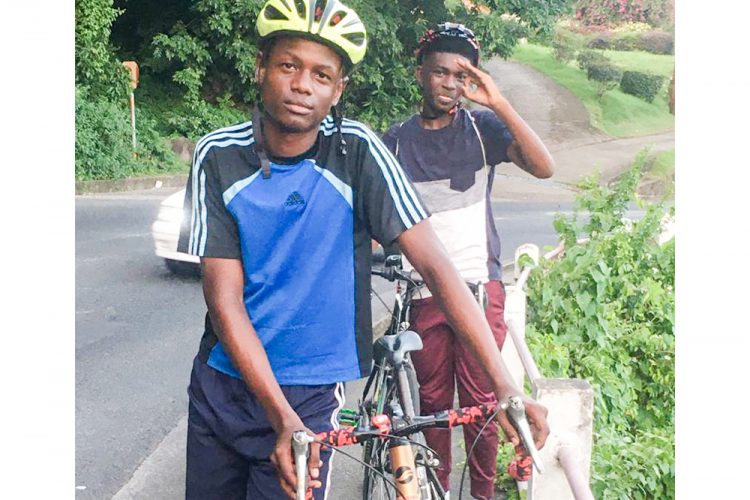 When the St Vincent and the Grenadines Cycling Union hosted its sixth Keep Fit road race last Sunday afternoon, a new cyclist, Ronaldo Knights, entered the fray.
This, after Knights was provided with a mountain bike compliments the SVGCU. Despite this, he finished last among the seven cyclists who took part in Sunday's race, Knights' enthusiasm was praised and he was encouraged to continue in the sport.
The youngster thus joined Rivas Young and Antonio Richardson, as the teenagers who are part of the SVG Cycling Union's setup.
Knights, in his debut race last Sunday, timed 29 minutes 07.87 seconds.
The event, which covered seven miles, began at the SOL Gas Station, Arnos Vale, to Ratho Mill, and turned around to end in Belair.
Zefal Bailey was the first to the finish line, in a time of 19 minutes 13.24 seconds. Second to Bailey was Albert Quammie, who clocked 19 minutes 15.69 seconds.
Veteran cyclist Orel George was third, stopping the clock at 23 minutes 12.40 seconds.
In fourth place was Rivas Young (24 minutes 03.99 seconds), while Carlos Rivas' fifth place time was 24 minutes 08.98 seconds.
Docking in sixth was Antonio Richardson, in a time of 26 minutes 54.06 seconds.
Cyclists will return on August 3, in a repeat of last Sunday's race, which will be the seventh Keep Fit event.
The SVG Cycling Union has had to resort to Keep Fit races, because of the pending threats of the COVID-19 pandemic.
The union held its last major race on March 8.