Posted on
Vincy Premier League players' draft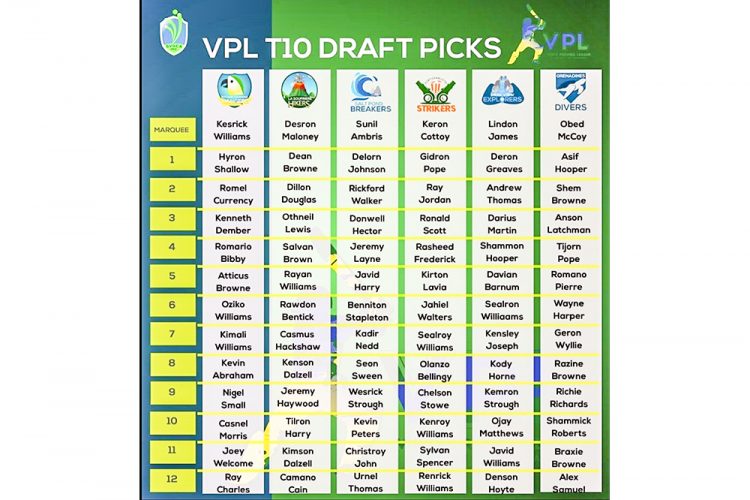 The following players were selected to be part of the six franchises for the inaugural Vincy Premier League (VPL), set for the Arnos Vale Playing Field.
La Soufriere Hikers:
Dean Browne, Dillon Douglas, Othneil Lewis, Salvan Browne, Rayan Williams, Rawdon Bentick, Cosmus Hackshaw, Jeremy Haywood, Tilron Harry, Kenson Dalzell, Kimson Dalzell, Camarlo Cain.
Marquee player –
Desron Maloney.
Coach- Irvin Warrican Manager- Rawl Caine
Salt Pond Breakers :
Delorn Johnson, Rickford Walker, Donwell Hector, Jeremy Layne, Javid Harry, Benniton Stapleton, Kadier Nedd, Seon Sweeen, Wesrick Strough, Kevin Peters, Chrisroy John, Urnell Thomas.
Marquee player-
Sunil Ambris
Coach – Olanzo Jackson Manager – Ricky Grant
The Fort Charlotte Strikers :
Gidron Pope, Ray Jordan, Ronald Scott, Rasheed Fredericks, Kirton Lavia, Jahiel Walters, Sealroy Williams, Olanzo Billingy, Chelson Stowe, Kenroy Williams, Sylvan Spencer, Renrick Williams.
Marquee player- Keron Cottoy
Coach- Kenroy Martin Manager- Parnell Browne
Grenadines Divers:
Asif Hooper, Shem Browne, Anson Latchman, Tijourn Pope, Romano Pierre, Wayne Harper, Geron Wyllie, Razine Browne, Richie Richards, Shamic Roberts, Braxie Browne, Alex Samuel.
Marquee player –
Obed Mc Coy
Coach- Ian Allen Manager – Roland Wilkinson
Botanic Gardens
Rangers:
Hyron Shallow, Rommel Currency, Kenneth Dember, Romario Bibby, Atticus Browne, Ozico Williams, Kimali Williams, Kevin Abraham, Nigel Small, Casnell Morris, Joey Welcome, Ray Charles.
Marquee player-
Kesrick Williams
Coach- Nixon Mc Lean Manager- Elvis Browne
Dark View Explorers:
Deron Greaves, Andrew Thomas, Darius Martin, Shammon Hooper, Davian Barnum, Sealron Williams, Kensley Joseph, Kodi Horne, Kimron Strough, O'Jay Matthews, Javid Williams, Denson Hoyte.
Marquee player-
Lindon James
Coach- Bertram Stapleton Manager – Elron Lewis
The VPL, a T/10 competition, an undertaking of the St Vincent and the Grenadinnes Cricket Association Inc., is set for the Arnos Vale Playing Field from May 22 to May 31.