Posted on
SVGCA Inc hosts VPL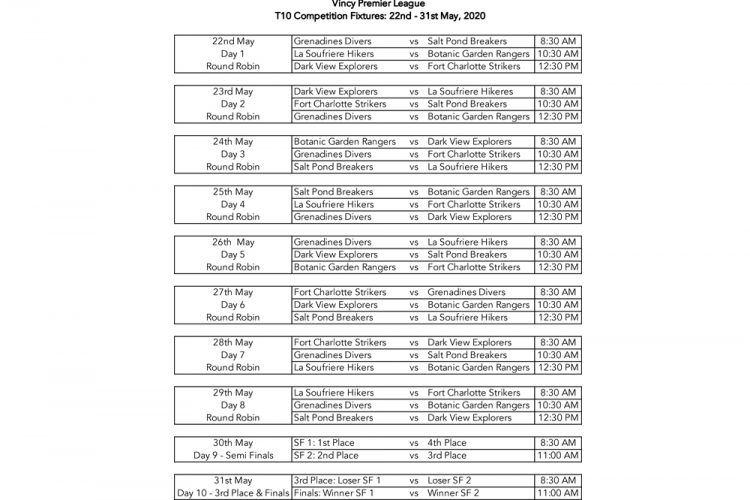 Competitive cricket will return to this country, when the St Vincent and the Grenadines Cricket Association Inc.
hosts the inaugural Vincy Premier League (VPL), to be played From May 22 to 31, at the Arnos Vale Playing Field.
Set to be played on a T/10 format, the VPL is comprised of six franchises: the Grenadines Divers, La Soufriere Hikers, Dark View Explorers, Fort Charlotte Strikers, Botanic Garden Rangers and Salt Pond Breakers.
The Marquee players assigned to the franchises are Kesrick Williams, Keron Cottoy, Sunil Ambris, Obed Mc Coy, Lindon James and Desron Maloney.
Each of the franchises will be made up of 13 players, along with a coach and manager.
The coaches and managers assignments are Grenadines Divers – Ian Allen (coach), with Roland Wilkinson, the manager; La Soufriere Hikers has Irvin Warrican as coach and Rawl Caine, the manager.
Named as coach of the Dark View Explorers is Bertram Stapleton and manager is Elron Lewis.
Meanwhile, Kenroy Martin is the coach of the Fort Charlotte Strikers, and Parnell Browne, the manager.
Taking on the task of coach of the Botanic Gardens Rangers is Nixon Mc Lean, with Elvis Browne, the manager and Salt Pond Breakers' coach is Olanzo Jackson and Ricky Grant, the manager, Ricky Grant.
All matches played at the Arnos Vale Playing Field. Played in two rounds, three matches will be played on each day of the competition,Matches will bowl off at 8:30 a..m., 10:30 a.m. and 12:30 p.m.
There will also be live television and streaming broadcast; live commentary, live scoring online, Real Time Statistics, Social Media Updates along with match previews and summaries.
The official launch of the VSL and the players' draft took place yesterday.