Posted on
Coaches welcome Diamond athletics track's progress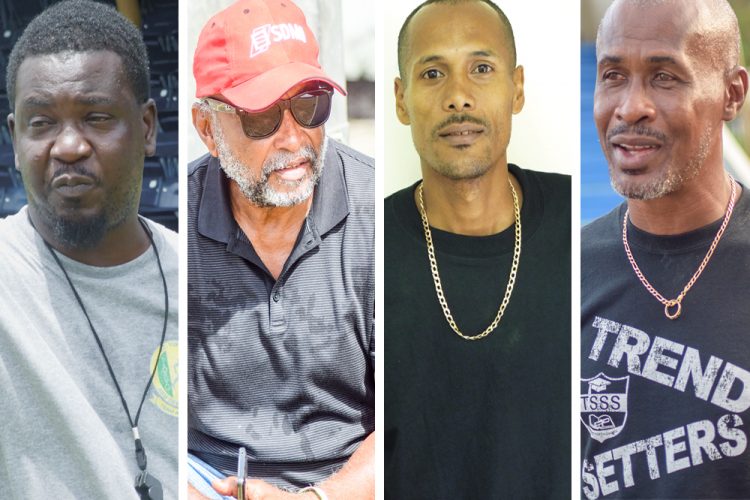 Track and field coaches are welcoming the progress made on the long-awaited track facility being erected at Diamond.
The Diamond Track Facility, as it is named, when completed will comprise a 400m synthetic track, along with designations for field events such as the shot putt, javelin, triple jump, pole vault, steeplechase, long jump, high jump, as well as a full-sized football field.
Since the official sod turning ceremony which took place on the site, January 24 this year, work has been progressing at a fast pace, with the facility's eventual configuration unfolding.
One such person who is pleased with the erection of track is Rawlson Morgan, head coach of the St Vincent Grammar School track and field team and head coach of the X- Cel Track Club.
Rawlson Morgan
"I welcome the track… It will be a plus for athletes and coaches… It has long been promised… It will help us to save thousands of dollars, as we will not have to send our athletes overseas to run on a synthetic track in order to make qualifying times," Morgan commented.
"I hope though that after all the monies spent that World Athletics would certify it," he added.
Morgan is also cognisant of the need to put the proper management mechanisms in place, to ensure that the facility is adequately maintained.
"Yes, it is one thing to put down a track, but proper management and maintenance are also needed, for we have seen other sporting facilities erected that go to ruins because of no maintenance plan," Morgan cautioned.
Michael Ollivierre
"I am glad that we at last are getting a track… It is something that we have been clamouring for a long time now and would boost track and field here in St Vincent and the Grenadines," Ollivierre of the IT-DAT Academy welcomed.
"I am not necessarily in favour of the location, because I would have preferred somewhere where there is high traffic, but it is something that was needed," Ollivierre stated.
Ollivierre though wants the authorities to put in place a proper management structure when the facility is completed.
"What should be a place is a management committee to properly manage the facility… A committee that is free from political preferences," Ollivierre proposed.
Pamenos Ballantyne
Ballantyne, who disclosed that he has been keeping up to date with the work done at the facility, related: "Getting a synthetic track here in St Vincent and the Grenadines is long overdue, but will now help to build the sport of track and field".
This country's most decorated long-distance athlete, Ballantyne foresees the economic benefits of having "a track of our own".
"Vincentian athletes will no longer have to travel overseas to compete just to make qualifying standards for regional championships, like Junior Carifta, or international competitions, like the Olympics… Also the student-athletes wouldn't necessarily have to travel to countries like Trinidad and Tobago and Barbados to make the qualifying standards for the Penn Relays," Ballantyne, who is the coach of Chatoyer, agreed.
Godfrey Harry
For coach of the Thomas Saunders Secondary School track and field team and head coach of X- Ceed Sports Club, Harry said: " It is a great step in the right direction, as it will increase the talent pool for track and field because more persons would want to get involve, as a modern facility is available".
Harry noted that whilst most of the preparations would be done on grass, coaches would have a heightened awareness as opposed to the frustration of " running home on grass then competing overseas on artificial surfaces".
" We should see too, a lower drop off rate in our track and field talent, also a spike in talent athletes' performance and too, coaches should have no excuses", Harry projected.
"Harry is also hopeful that with the coming on stream of the track, " It should bring us some regional meets, improvements in sports tourism, once the track is certified".
The Diamond Track Facility has been a protracted promise by the Unity Labour Party administration, of a national stadium, that is now being partially fulfilled.