Posted on
'I don't pay attention to statistics' – Kesrick Williams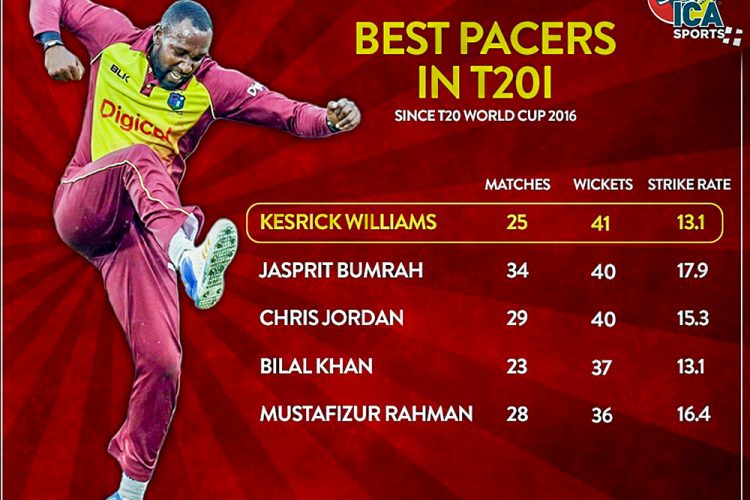 Despite being most successful fast bowler since the International Cricket Council's T/20 World Cup in 2016, Vincentian Kesrick Williams has disclosed to SEARCHLIGHT, that he does not pay much attention to statistics.
Williams, since making his T/20 international debut for the West Indies in 2016, has distinguished himself as one of the world's leading fast bowlers in that format, and has taken 41 wickets in 25 matches.
This has put him ahead of India's Jaspirit Bumrah, Chris Jordan of England, Bilal Khan of Oman and Mustafizur Rahman of Bangladesh.
In 2017, Williams collected 18 wickets from 10 matches, the best take by a West Indian in a calendar year. He was also the fastest West Indian bowler to 30 wickets in T/20 internationals.
Apart from that, Williams is fifth on the list of most wicket for West Indies bowlers in the T/20I.
Comparatively, he has a superior wickets per match ratio, to those West Indians who are ahead of him.
While Williams' tally of 41 wickets are from 25 matches; Dwayne Bravo has taken his 59 wickets from 71 matches; Samuel Badree has his 54 wickets from 50 matches, while Sunil Narine's 51 wickets has come from 50 matches.
Just ahead of Williams is former West Indies captain Daren Sammy, who has taken 44 wickets from 66 matches.
Carving out a name for himself in the 20/20 format, Williams said: "It's a tremendous feeling, but I don't pay a lot of attention to statistics and records".
Instead, Williams wants to continue performing and be the best that he can be in the art of fast bowling.
"There's a lot of work to be done, but at the end of the day, I'm playing my heart out …I'm playing for West Indies; I'm playing for St Vincent and the Grenadines and for my family, then myself… So there's a lot of people to play for," Williams related.
Williams cites bettering his craft is more important than racking up the statistics.
"I'm still working really hard on bowling the yorker… I'm not at the point yet where I can bowl it when I want to, like the way Bumrah (Jaspirit), when he wants, or the way Bravo (Dwayne), when he wants, and that's attacking," Williams confessed.
"Bowling a defensive yorker, I am fine with that and with slower balls, I have that locked… But you have to know when to bowl it," Williams added.
Whilst Williams works out his other areas in his bowling armoury, he confirmed that he will continue to perfect his guile and "change of pace", in prying out batsmen.
"I will continue to do what get me here, and see how much how further I can get me," the 30 -year-old Williams concluded.