Posted on
NSC to address jump facility's issues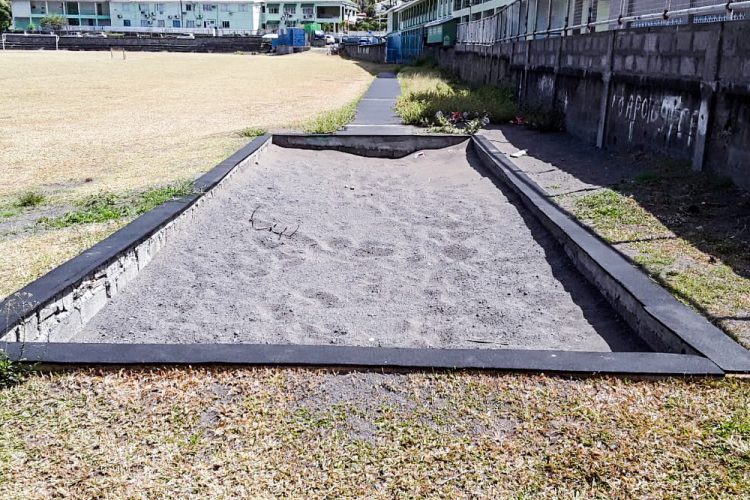 The National Sports Council (NSC) will, in due course, address the problem of insufficient sand at the long jump and triple jump facility at the Grammar School Playing Field.
Giving this assurance was facility manager of the NSC Lance John.
Speaking to SEARCHLIGHT last Wednesday, John noted that the extended dry spell and the non-activity for the past three weeks at the venue, resulted in the sand being "blown away".
John noted that sand will be brought in to adequately restore the level in the pit.
During the latter part of March, some persons who frequent the facility, had complained of the low level of sand in the pit.
It was felt that it posed a health and safety hazard to students who were using it then, in preparation for the National Lotteries Authority Inter- Primary Schools Athletics Championships (IPSAC) and the Inter- Secondary Schools Athletics Championships (ISSAC), which were set for Wednesday and Thursday of this week at the Arnos Vale Playing Field.
Both championships have been postponed because of the coronavirus (Covid-19) pandemic.
The current long/triple jump facility was redone two years ago, with the addition of a 45-metre synthetic mat and a redesigning and upgrade of the existing sand pit.
Former national athlete Orde Ballantyne, whose idea it was, gave birth to the improved facility.
Sanctioned by Team Athletics SVG, Ballantyne raised the $19 000 needed to finance the project.
He did so with help mainly from Vincentians living overseas, namely North America, and with other locals and the schools within the precincts of the Grammar School Playing Field.
The facility is mainly utilsed by students of the two primary schools – CW Prescod Primary and the Kingstown Preparatory and four secondary schools: the Girls' High School, the St Vincent Grammar School, the Intermediate High School and Thomas Saunders Secondary.