Posted on
Premiership could end in photo finish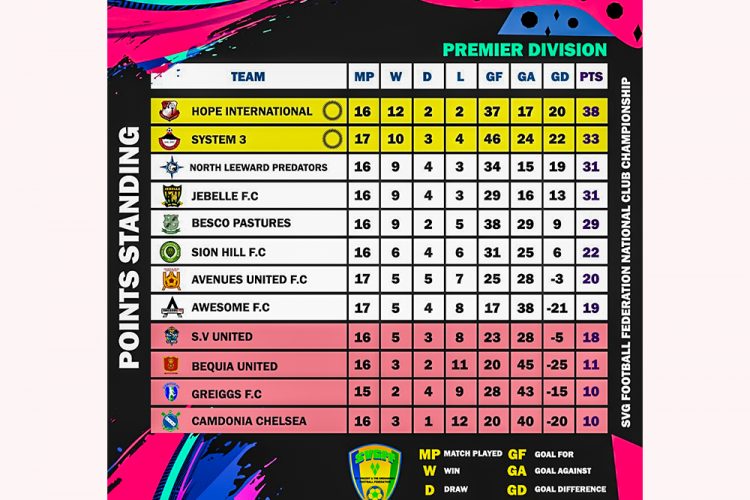 Close followers of the 2019/2020 National Club Championships, under the aegis of the St Vincent and the Grenadines Football Federation (SVGFF), are anticipating a tight finish, whenever the premiership resumes.
Even though suspended for the past three weeks because of the threat of the coronavirus (COVID-19), and with the possibility of some more delay in the restart of the championships, yet the enthusiasm of who will be crowned champion is still high.
Hope International cannot be breathing easily, despite having opened up a five-point gap, at the time of the suspension of the championships.
On 38 points from their 16 matches, Hope International are on top of the 12-team table.
Second on the table, but from 17 matches are Systen Three with 33 points, while North Leeward Predators, the 2018/2019 runner-up, are on 31 points from 16 matches.
Also on 31 points, but with an inferior goal differential from North Leeward Predators, are Je Belle.
In fifth place are reigning champions BESCO-Pastures on 29 points.
Meanwhile, on 22 points are Sion Hill, presently slotted in sixth place, with former champions Avenues United in seventh place on 20 points. Sion Hill have played 16 matches and Avenues United, 17.
Rounding up the top-eight spot is Awesome FC on 19 points, gained from their 17 matches.
Relegation Zone
Occupying the relegation zone are SV United, Bequia United, Greiggs and Camdonia- Chelsea, in that order.
SV United have 18 points from 15 matches, with Bequia United, 11 points from 17 matches, while Greiggs are on 10 points from 16 matches and Camdonia–Chelsea on 10 points, also from 16 matches.
SV United, Bequia United, Greiggs and Camdonia-Chelsea, are lodged in the relegation zone.
SV United are on 18 points, with Bequia United on 11 points and both Greiggs and Camdonia–Chelsea on 10 points each.
Teams finishing in the last four positions will be relegated to the first division of the next National Club Championships.
Meanwhile, the two top teams from the first division will be promoted to the premier division, as the SVGFF moves to have ten teams in the top flight of the championships.