Posted on
Kendale Mercury cops third Coach of the Year award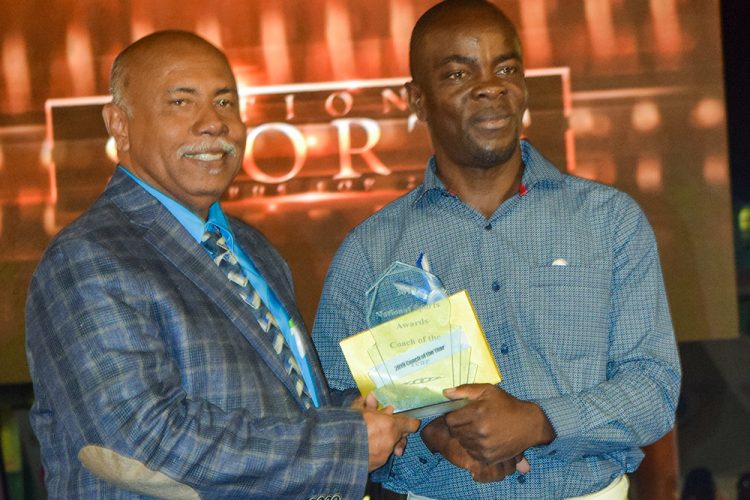 NATIONAL SENIOR TEAM football coach Kendale Mercury, copped his third coach of the year award, last Saturday night at the hosting of the 2019 NLA National Sports Awards at the SVG Community College's auditorium.
Mercury, who won back-toback coach of the year titles in 2008 and 2009, for the 2019 edition, got ahead of track and field duo of Chester Morgan and Rawlson Morgan.
Returning to the national head coach post after nine years absence, he immediately stopped the rot of defeats by winning the Windward Islands Football Association (WIFA) Tournament, which St Vincent and the Grenadines hosted at the Victoria Park in February/ March.
The host played unbeaten, defeating Barbados, Dominica and St Lucia, and drawing with Grenada.
Among Mercury's early conquest as well, was a come-frombehind win over Bonaire in the CONCACAF Nations League Qualifiers.
Thus, St Vincent and the Grenadines were then placed in Tier B of the Group stages, and Mercury engineered the team's sojourn, which saw them earning three wins, two draws and a solitary loss against Dominica, which was the final hurdle.
In between, Mercury strategised to see St Vincent and the Grenadines beat Trinidad and Tobago in a friendly international here. SVG also were engaged in, two other international friendlies against Belize in Belize, resulting in a draw and a loss.
Through his instrumentality, Mercury in his tenure, has instilled various positive measures geared towards better training and coaching methodolgies, as well as monitored nutrition for members of the senior team, when preparing for tournaments, among other pluses.