Posted on
King at the control in St George's cricket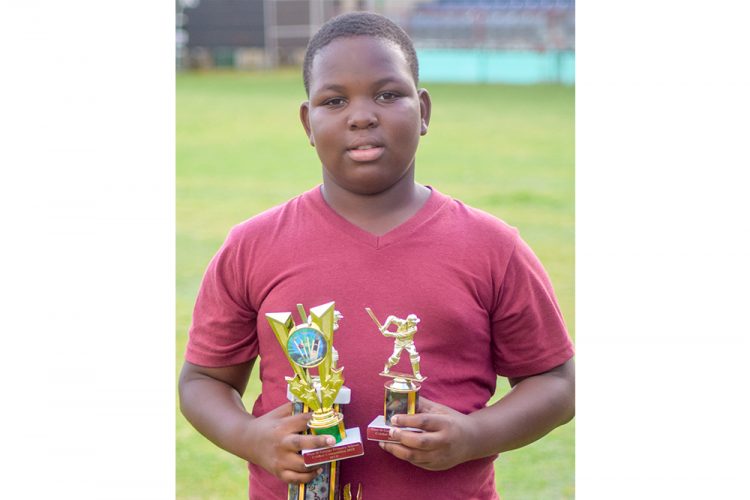 MBEKI KING HIT the first century of the 2020 KFC West St George primary schools' cricket competition, when he lashed 124 not out, last Saturday at the Dorsetshire Hill Playing Field.
King's ton, along with Zarony Glasgow's 50, pushed Corea's Distribution Ltd Gomea Methodist to 252 for 2 against Log Enterprises Dorsetshire Hill.
In response, Dorsetshire Hill made 122 for 5. Ezekiel Ashton hit 39 not out, while Storm Primus took 2 for 6.
Gomea Methodist kept their winning ways on Tuesday, defeating KPMG Belmont Government by six wickets at the Belair Playing Field.
Belmont Government scored 92 off 17.2 overs. Keyron Patterson took 3 for 12 and Jada Hazell, 3 for 17.
Gomea Methodist replied with 94 for 4 off 9.4 overs. Caville Gibson scored 20, while Jeshawn Weekes took 2 for 38.
Like Gomea Methodist, Allan's Bakery Sion Hill Government defeated NLA Calliaqua Government by nine wickets on Tuesday, at the Sion Hill Playing Field.
Calliaqua Government made 86. Adam Pierre took 3 for 15. Sion Hill replied with 87 for 1.
Meanwhile, NLA Brighton Methodist, BDO Belair Government and Dorsetshire were the other teams the triumphed.
At Stubbs on Saturday, Brighton Methodist beat NLA Calliaqua Government by 10 runs.
Brighton Methodist scored 120 for 3, and Calliaqua Government replied with 110 for 4. Denish Grant took 3 for 18, bowling for Brighton.
On Sunday also, at the Belair Playing Field, Belair Government won over KPMG Belmont Government by four wickets.
Belmont scored 115 and Belair responded with 116 for 6.
Belair Government also got the better of Brighton Government by 8 wickets.
Brighton Government scored 88, with Denish Grant making 20.
Calique Ash captured 2 for 18, bowling for Belair Government, whose response was 89 for 1 off 11.3 overs. Dante Brereton scored 20.
Belair added another win on Tuesday when they overcame Dorsetshire Hill Gov't by five wickets at the Dorsetshire Hill Playing Field.
Dorsetshire Hill Government scored 51 off 17 overs. Elijah Mc Dowald grabbed 3 for 8, Malachi Bascombe, 2 for 10, Zakayla Harry, 2 for 7 and Joshua Simmons, 2 for 4.
Belair replied with 52 for 5 off 9 overs. Denzil Defreitas took 3 for 14 and Ezekiel Ashton, 2 for 12.
On Sunday, Dorsetshire Hill had defeated Calliaqua Government by 74 runs at Dorsetshire Hill.. Dorsetshire Hill scored 153 for 6. Ezekiel Ashton scored 42, while Rolando Richards picked off 2 for 33.
Calliaqua Government replied with 79 all out. Collis Gibson took 3 for 10 and Alik Soleyn, 2 for 11.