Posted on
BSSS swimmers break 13 SVG National records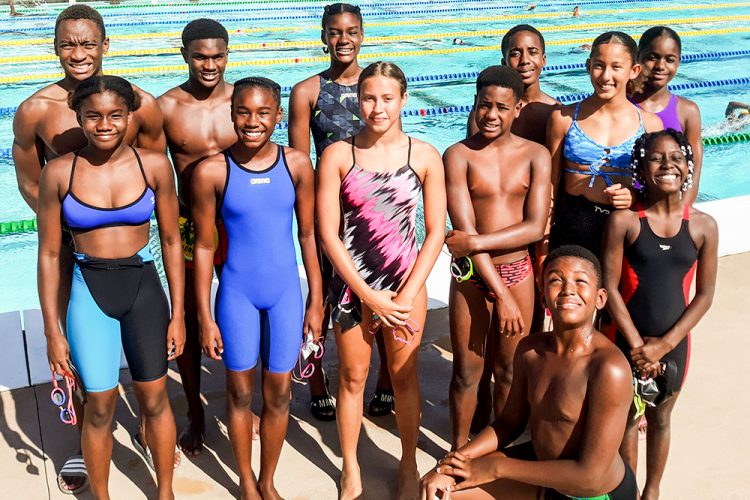 NINE MEMBERS OF the Black Sands Swim Squad (BSSS) competed in the 2020 BASA Long Course National Championships from March 3 – 8, in Barbados.
The small team managed to bring home a total of 52 medals and whilst doing so broke a total of 13 SVG National records.
Following in her siblings' footsteps, Jamie Joachim dominated the girls 11-12 years age group winning 4 gold, 1 silver and 5 bronze medals and was awarded the trophy for overall champion in her age group. Joachim smashed five SVG National records during her swims, which were: 100m freestyle – 1:04.77; 200m freestyle – 2:22.33; 400m freestyle -4:58.40; 100m butterfly -1:15.39 and 200m individual medley- 2:48.07.
Next up was Mya DeFreitas who won herself 2 gold, 2 silver and 3 bronze medals in the girls 13-14 years age group. Mya also broke five SVG National records: 100m freestyle 1:02.80; 400m freestyle -4:45.99; 100m backstroke -1:18.95;200m backstroke -2:47.18 and 100m butterfly – 1:09.72 Swimming in the same age group was Abigail Deshong and Rhema Robinson. Both girls swam their best, with Abigail winning 1 silver and 1 bronze medal and Rhema winning 3 bronze medals.
Leading the boys medal winning flurry was Shane Cadogan, who had returned from Stanford University to compete at this event with a hope to be selected to represent SVG at the 2020 Olympics.
Cadogan won 3 gold, 3 silver and 1 bronze medal and in the process broke two SVG National records: 100m breaststroke – 1:07.40 and the 100m individual medley – 2:21.39. Siblings Bryson and Brandon George both swam themselves onto the podium, with Brandon winning 1 gold, 4 silver and 4 bronze medals in the boys 11-12 age group and Bryson winning 1 gold, 4 silver and 3 bronze medals in the boys 15-17 years age group. Bryson also got his name into the SVG record books by breaking the boys 200m Individual Medley record, previously held by Nicholas Sylvester in a time of 2:39.34.
Swimming in his first year of the boys 13-14 years age group was Eltonte Leonard, who won himself 3 silver and 5 bronze medals and secured his spot on the 2020 SVG Carifta team.
His younger sister Eltonique Leonard was swimming in her first year of the girls 9-10 age group. She was unable to bring home any medals, but put in a fantastic performance, doing personal best times in every event she swam.
BSSS head coach Kyle Dougan said the performances of his swimmers were more than satisfactory in their first competition of the year in a long course pool (50m) and it has given him a good indication of what work needs to be done in the lead up to Carifta 2020. He would also like to congratulate Blue Marlins swimmers Kennice Greene, Zariel Nelson and Seth Byron who also competed at the competition and brought home 12 medals.