Posted on
U-20 male football squad named for CONCACAF qualifiers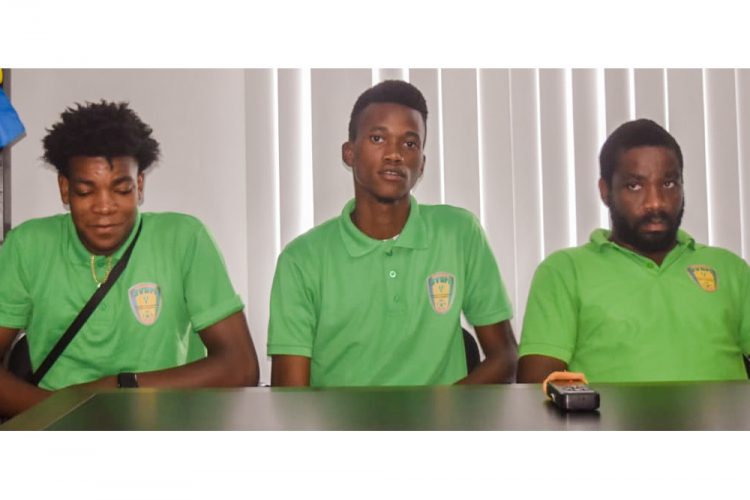 A 20-member St Vincent and the Grenadines Under- 20 male team and six officials have been named to travel to Nicaragua, for the CONCACAF qualifiers.
Selected are defenders Javier Chance, Tristan Marshall, Jequan Adams, Mekeal Williams, Zamaro Mofford and Ted Roberts.
Tevin Thompson, Joel Quashie, Dawarno Bynoe, Aaron Jackson, Terrason Joseph and Jerron Dopwell, are the midfielders named, while Garwin Davis and Jellando John are the goalkeepers.
And, Shemal Reid, Cleon Westfield, Alpheus Medica, Oryan Velox, Shayne Lynch and Jahiem Pompey are the strikers in the team.
The coaching staff includes Wesley Charles – head coach, Hollister Browne – assistant coach, Melvin Andrews – goalkeeper coach and Shandell Samuel – striker coach. The team's manager is Rosalo Mc Kie.
At a press conference held last Wednesday, at the SVGFF's conference room, team manager Mc Kie, expressed some optimism.
"The team has been in training for approximately seven months, and we are expecting to do well out there, because most of the players that are in Uner-20 were a part of the Under-17 set up, Mc Kie reasoned.
"We played a few teams that was in this group from Under-17 qualifiers, which we missed out on based on goal difference… So we are looking forward to this round, and the Under-20s to move on to the actual World Cup itself, and everything from there," Mc Kie added.
Placed in Group A, the Vincentians open their campaign next Monday, February 17, from 6:30 p.m. against Guyana and play the host Nicaragua, two days later, but with a kick-off time of 8:30 p.m.
St Vincent and the Grenadines then play Montserrat on Friday, February 21, from 8:30 p.m., and round off their qualification efforts versus the United Stats Virgin Islands on Sunday, February, 23 from 6:30 p.m.
The winner of the group advances to the next phase of the qualifiers.