Posted on
ARGO Donates Football Kits to St Mary's RC School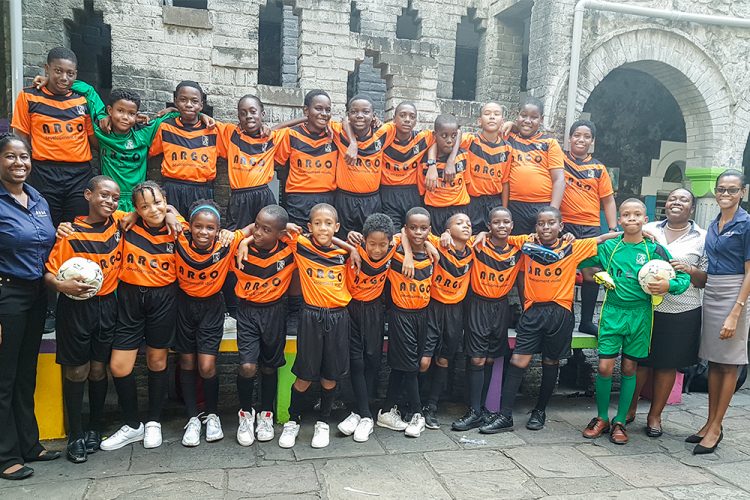 ON MONDAY January 20, ARGO Development Studio outfitted the St Mary's Roman Catholic School's football team with complete football kits comprising of jerseys, shorts and socks.
The school's principal Eula Johnney and coach Guy Lowe on accepting the donation, indicated that it was timely, as the team was without uniforms and were in the process of sourcing new ones.
ARGO is an international award-winning architectural company which began operations in St Vincent and the Grenadines in July 2019 and is located in close proximity to the St Mary's Roman Catholic School (downstairs the World Paediatric Project office). ARGO specialises in a design and construction process called BIM (Building Information Modelling). BIM allows for buildings to be designed in a scientific way, making them increasingly resilient to the effects of natural disasters. This process allows ARGO to design, cost and construct intelligent buildings in a 3D virtual environment achieving savings of up to 20% over conventional 2D delivery.
ARGO also has offices in Barbados, Dominica and Ireland, with project offices in St. Maarten,
Tortola and Bermuda. The company is set to officially launch its St. Vincent and the Grenadines office in the first quarter of 2020.
ARGO's Managing Director, David Campion says that the company's ethos regarding corporate social responsibility, is to create a strong bond with the communities within which they operate through outreach programmes and sponsorship to charities, schools and sports clubs.
ARGO's aim is to connect with the wider community by building strong connections both inside and outside the organisation.