Posted on
Je Belle remains unbeaten in National premiership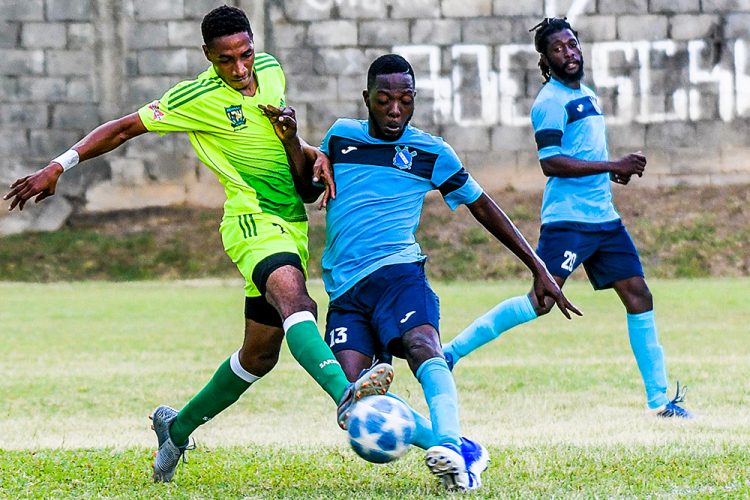 Je Belle is the lone unit that has not lost a match in the 2019/2020 St Vincent and the Grenadines Football Federation's National Club Championships.
After six matches, Je Belle is on 14 points, gained from four wins and two draws.
Je Belle's fourth win came last Sunday, when they went into the heartland of North Leeward Predators and inflicted a one-nil defeat on them at their office, the Golden Grove Playing Field.
But whilst Je Belle are yet to lose, iSystem Three are leading the 12-team pack, on 16 points from six matches. System Three's tally comes from five wins and a loss.
Hope International are occupying the third spot, on 13 points from their six matches. Hope International have four wins, one loss and one draw.
Meanwhile, Sion Hill, North Leeward Predators and Awesome are all on 10 points.
Both Sion Hill and North Leeward Predators have played six matches, and have 3 wins, 1 draw, 2 losses. Sion Hill, though, have a superior goal difference, while Awesome have played seven matches, notching up 3 wins, 1 draw and 3 losses.
The rest of the table sees BESCO – Pastures on 9 points from five matches, while Bequia United have 7 points from seven matches.
The teams in the relegation zone are Camdonia- Chelsea and SV United on 6 points from seven matches and Avenues and Greiggs, 5 points from seven matches.
Each of the 12 clubs will play 22 matches, as there will be two rounds of matches.
The winning club gets $20,000, second, $15,000, third place, $10,000 and fourth, $6,000.
BESCO- Pastures won the last premiership, ahead of North Leeward Predators. Sion Hill was third and Hope International, fourth.