Posted on
Vincentian Table Tennis coaches urged to "unite"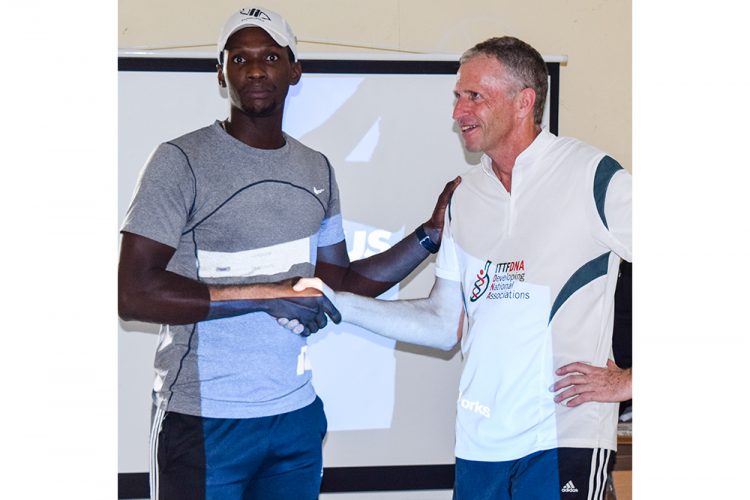 The few active table tennis coaches here in St Vincent and the Grenadines (SVG) who are passing their expertise to young players, have been urged to "unite'.
This recommendation has come from Swiss table tennis expert – Georg Scilberschmidt, who sees the lack of unity among coaches as a bug bear.
Scilberschmidt made this assessment last Wednesday at the St Vincent Grammar School's hall, following the completion of 30 hours of instruction to 16 persons drawn from the Ministry of Education and the Division of Physical Education and Sports, aimed at being certified as level one table tennis coaches.
"We need the coaches to work out a proper programme because here in St Vincent and the Grenadines, it is so small … There are few players, few coaches, but they are not working together and if you want to have success, you need team work", Scilberschmidt advanced.
"We need to bring the coaches together… Not one running an academy and one wants to be national coach and everybody for himself, [because] when coaches are not working together, it is not for the player, [so] we have to think about the player," he added.
Scilberschmidt therefore recommends that the SVG Table Tennis Association moves towards formatting such a programme to aid the promotion and enhancement of the sport.
"They (the SVGTTA) have to work out a system whereby everybody comes to one centre… The best situation that everybody is in one hall, where there are three or four coaches and share their expertise," Scilberschmidt advised.
And, Scilberschmidt plans a test run of his proposal when he engages some of the best prospects this Saturday at the West St George Secondary School for eight hours, and who will be exposed to the "best" coaching stock available.
Before that Scilberschmidt was expected to visit the schools on Bequia on Friday and a session at the West St George Secondary School, today, Friday, January 10.
From January 12 to 15, Scilberschmidt and Samir Muladic – head coach of Switzerland will be in Mayreau and Union Island to seek out new talents on those Grenadine islands.
Scilberschmidt and Samir will then on January 16, 17, 18 and 20 return to the West St George Secondary School's auditorium, where they will conduct further training.