Posted on
CMT Out Ah Trouble still TBPO softball champions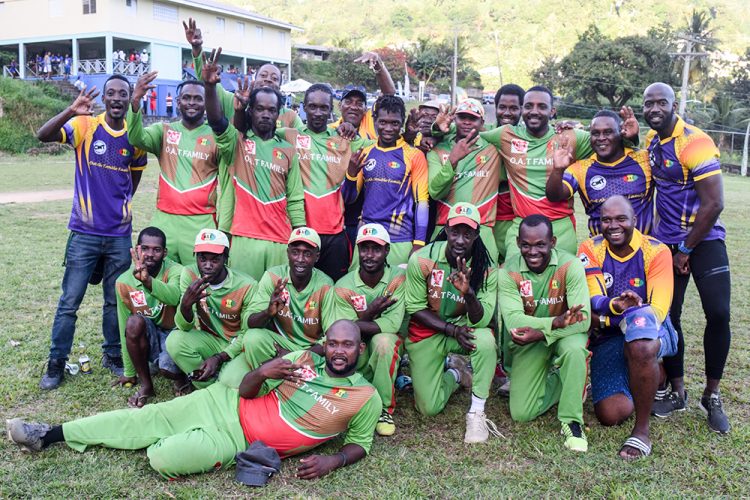 Country Meet Town Out Ah Trouble beat Sion Hill Tallawahs by 43 runs to end 2019 in a celebratory mood at the Dauphine Playing Field on Sunday December 22, to retain the title of champions of the National Lotteries Authority TBPO 20/20 softball cricket competition.
Batting first, Out Ah Trouble made 145 / 9 in their 20 overs.
Javid Harry made 26 and Davian Burniam, 24. Bowling for Sion Hill Tallawahs, Marlon Baptiste took 3/20, Shamic Roberts 3/26, and Alex Roberts 2 /22.
Sion Hill Tallawahs in reply reached 102/7 from their 20 overs; Shanley Lavia – 23.
Richie Richards 2/8, Asif Hooper 2/10, and Davian Barniam 2/28, were the main wicket takers for Out Ah Trouble.
In the third place play off, decided the day prior, Gairy's Construction Simple Boyz overcame Challengers by 4 wickets.
Challengers – 68 all out in 14.5 overs; Britnol Scott 20.
Travis Cumberbatch 2/ 7, and Keniel Skinner 2 / 10, got wickets for Simple Boys.
Stein Joseph scored 21, as Simple Boys replied with 69/ 6 in 12 overs.
Alex Jessop took 2/13.
Out Ah Trouble got $3000 for winning the title; Sion Hill Tallawahs – $1500, Simple Boyz – $1000 and Challengers – $500.
It was Out Ah Trouble's third title for 2019, as they also retained the Greiggs title and copped the Bush League 15/15 competition again.
Awards
Stein Joseph of Gairy's Construction Simple Boys was the MVP of the competition.
Joseph scored 254 runs and bagged six wickets. Britnol Scott of Challengers with 284 runs, took the most runs award, while Shamic Roberts of Sion Hill Tallawahs took the most wickets – 20.
The most promising player award went to Demar Williams of Simple Boys, while organisers awarded a special prize to Hard Hitters pair of Erwin Williams and Sheldon Baptiste, who scored a 100 runs last wicket partnership to oust Gomea Bombers in the elimination phase of the competition.
And, CGM Gallagher Novice was deemed the most disciplined team.