Posted on
Outa Trouble stay champs of Greiggs softball cricket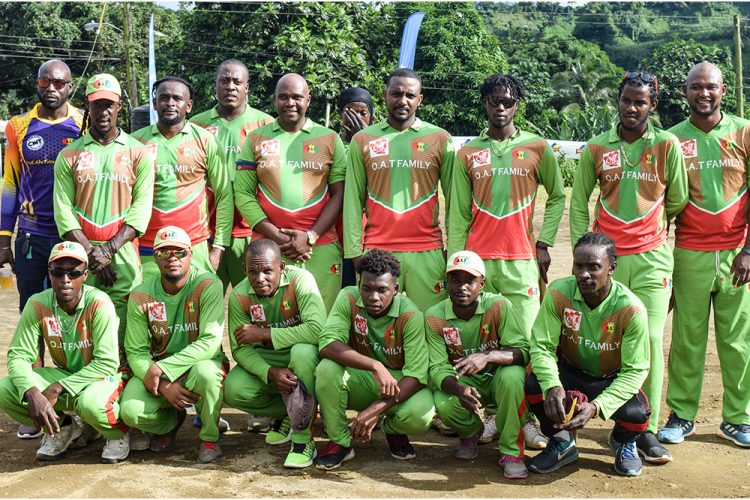 Country Meet Town Outa Trouble, made it a formality last Sunday at the Greiggs Central Playing Field, by staying as champions of the Caesar's Real Estate, Hairoun/ FLOW, Nar Fren Dem Greiggs 20/20 softball competition.
A 12-run win over Hard Hitters, handed Outa Trouble back-to-back titles.
In a match reduced to 17 overs because of a late commencement, Outa Trouble got to 107 for 6 from their allottment. Javid Harry made 27 not out.
Bowling for Hard Hitters, scalped 2 for 7 and Kenson Dalzell, 2 for 34.
Hard Hitters' response halted at 95 for 9 from their 17 overs, thus 12 runs short. Player of the final Davian Barnum picked off 4 for 17, to be Outa Trouble's most successful bowler.
Outa Trouble got another $2,500 to their kitty, while Hard Hitters had to settle for $1,500.
Just prior to Sunday's final, Sion Hill Tallawahs overcame Caesar's Real Estate Nar Fren Dem, to earn themselves $1,000.
Sion Hill Tallawahs posted 148 for 8 from their 20 overs, with Marlon Baptiste contributing 43 and Teroy Roberts, 35. Wayne Garraway took 4 for 26, to take his tally of wickets to 16.
In reply, Nar Fren Dem made 89 all out from 18.6 overs. Shamorie Baptiste led with 20.
Shamic Roberts took 4 for 15, bowling for Sion Hill Tallawahs, who were victorious by 59 runs.
But it was Nar Fren Dem's Ceon Phillips, who gathered three individual accolades.
Phillips scored the most runs, a total of 494. He had one century and six other scores over 50.
Behind the stumps, Phillips had 8 catches and 2 stumpings, the best performance by a wicketkeeper.
Phillips was named the overall MVP.
Phillips' teammate Wayne Garraway, took the most wickets (16). Another Nar Fren Dem player, Cordice Oliver, was deemed to have taken the best catch of the competition.
Julian Joyles and Lennox James were rewarded as the most loyal spectator and best umpire, respectively.
Rasfarco were adjudged the most diciplined team.