Posted on
North East returns to the top of masters' cricket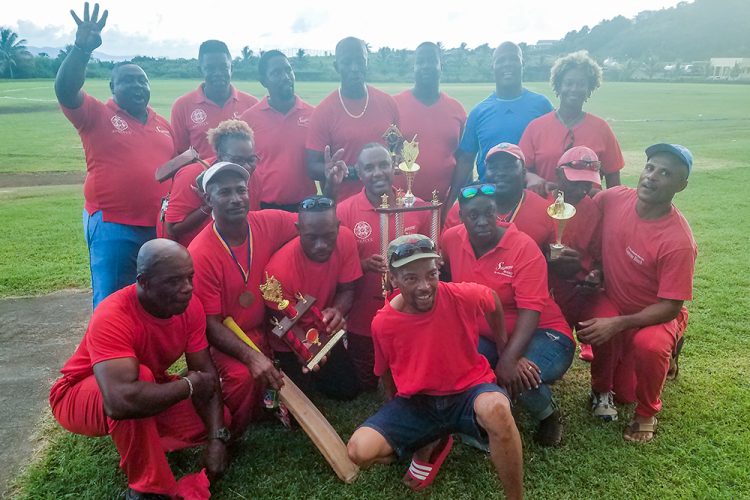 North East defeated Mustique Company Masters by four wickets last Sunday, at the Sion Hill Playing Field, to be crowned the 2019 SVG Masters cricket champions.
Mustique Company posted 140 for 7 off 20 overs. Oneil Thomas scored 48, Nicholas Baptiste, 27, and St. Clair Bascombe, 24.
Olanzo Jackson was the pick of North East's bowling, taking 4 for 17 and Winsbert Springer had 2 for 31.
In reply, North East hit 141 for 6 from 19.1 overs, as eventual player of the final Deighton Butler stroked 57 not out and saw them over the line. Dyke Cato contributed 24.
Caswell Dorsette, with 2 for 30 and Oneil Thomas, 2 for 24, were Mustique Company Masters' most successful bowlers.
North East thus collected the winner's trophy, LOG Enterprises products and $1,200, while Mustique pocketed $800, LOG Enterprises products and the second place trophy.
North East got to Sunday's final by ousting Memorial Funeral Home Jules Anthony North Leeward by three wickets on Saturday, also at the Sion Hill Playing Field.
North Leeward scored 129 for 4 off 20 overs. Alfie Gould hit 40, Lennox Douglas, 29, Nelson Williams, 21 and William Edwards, 20.
Deighton Butler took 3 for 26, bowling for North East, who replied with 130 for 7 from 19.3 overs.
Olanzo Jackson, with 36 and Joseph Carrington, 22, were the main contributors. Orlando Charles had 4 for 36, bowling for North Leeward.
Awards
Mustique Masters' Oneil Thomas scored the most runs (325). Thomas, in addition, captured 13 wickets, to be the choice of MVP of the competition.
North East's Olanzo Jackson copped the award for the most wickets. In total, Jackson collected 14 wickets.
Also rewarded were the bowlers who captured five wickets or more in an innings. Those achieving the feat were Ray Richards of Ptani Masters and Lenniff Hector of North Leeward.
Similarly, there were two centurions, Gareth Wilson of North Windward and Elton Williams of North East.
Kirk Hamlett of Mustique Masters was rewarded for his catch to dismiss Olanzo Jackson in Sunday's final.
Medals were also given to the MVPs of each of the fourteen teams that contested this year's edition.