Posted on
James Bentick takes Malaysia masters over-50 squash title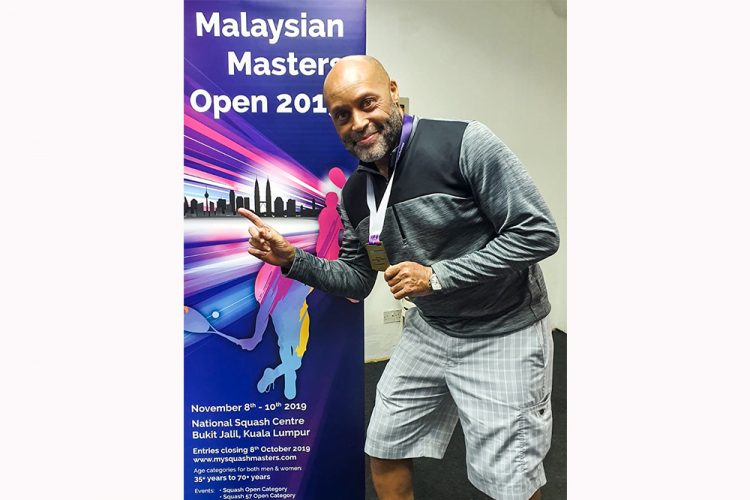 Vincentian James Bentick trumped the men's over -50 segment of the Malaysia Squash Federation's masters event, held at the National Squash Centre, Kuala Lumpur, Malaysia, recently.
Facing the No. 3 ranked player Walter Lai Cher of Malaysia in the finals, Bentick won 11- 3, 11-4, 11-2.
Bentick's journey to the top began with a win over Balakrishnan Rangasamy of Malaysia, 11-5, 11-6, 11-3.
It was another 3-0 win, when Bentick met Malaysian Tan Tian Huat, as he won 11-6, 11-5, 11-7.
Bentick credits his strength and conditioning for this tournament down to his training through the summer with coach Andrew Williams in St. Vincent and the Grenadines and the many court sessions at Capitol Club with his team players in Thailand.
Bentick's triumph in the Malaysia Masters follows a string of other good efforts during the year.
He was the runner-up in the Royal Bangkok Sports Club (RBSC) Polo Club Squash League, held in February/March in Thailand.
Then in April, Bentick was the winner of the RBSC Squash Jaturamir Tournament held in Bangkok, and in June, he copped the Summer Solstice Classic 5.0 division hosted at the Delaware Sports Club, USA.
Bentick, before migrating in 2018, served as the President of the St Vincent and the Grenadines Squash Association, Junior and Senior St Vincent and the Grenadines head coach and head coach of the OECS junior squash team.
Bentick too, won several men's open and over-40 titles at the OECS Squash tournament and men's over-40, at the wider Caribbean Area Squash Association (CASA) level.